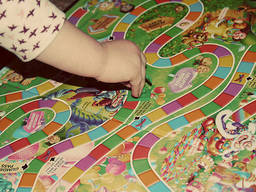 Enjoy the weekends by playing fun and educational board games with the whole family!
Kids learn through fun games and they don't need to be in school to learn. Even at home, they can still learn and acquire skills. Age appropriate board games are great learning tools for kids. They can have fun without spending any money and without turning on the television. Some board games that originated in Australia are Squatter and The Kookaburra Game. Bring out those old board games and play with your kids!
A video of Board Games For Kids
Playing board games with your kids is a perfect time to relax and bond. What's more fun is you and your kids can create a homemade board game with recyclable materials. You can even invent your own rules!
Information on Board Games for Kids
Are board games for your kids?
Nowadays, kids spend their idle time by watching the television or by playing typical activities for kids like video games. Games for the family like board games provide entertainment and opportunities for the family to spend quality time together, unlike video games that can promote isolation. Board games also provide many advantages and help in developing skills that will help them excel academically as well as in life.
Discipline
Explaining the rules to your kids may not be enough for them to develop discipline. It is also essential to explain to them how important it is to follow the rules. Board games can highlight the consequences of disobeying rules. in a fun environment.
Critical Thinking
Board games that involve strategising will help develop problem-solving skills. They will also learn abilities like detecting patterns and planning. They also help improve decision-making skills.
Social Skills
Most board games need to have more than one player. This allows kids to interact and communicate verbally. They also encourage sharing and taking turns.
Friendly Competition
The most primary purpose of board games is for kids to learn and enjoy. Winning is just secondary. Board games and any other competition teach kids fair play and the acceptance of loss.
Other useful skills that your kids will develop from playing educational games are the skills of counting, reading, shape and colour recognition, visual perception, and eye-hand coordination. Acquiring all these skills can lead to a successful social and academic life.
Kids can start playing board games at the age of 3. Here is a list of some age-appropriate board games that can suit your kid's development stage and skill level.
Candy Land
This is a favourite among kids between ages 3 and 6. Kids pick a coloured card and move the gingerbread man to the space on the candy-lined trail with the colour that matches the card. The first one to reach the Candy Castle wins. This board game enhances colour recognition and teaches kids to take turns. It can cost about $6 to $7.
Chutes and Ladders
Kids spin the wheel to find out how many spaces to move. If their pawn ends up below the ladder, they can advance and climb up. If their pawn ends up at the top of a chute, they slide down. The first player to reach the space marked with the number 100 wins. This game is best enjoyed by kids aged 3 to 5. It teaches them to count spaces and follow the rules. It can cost about $6 to $7.
Scrabble
One of the perfect board games that will improve spelling, reading, and vocabulary is Scrabble. Kids will love the challenge of thinking of a word they can form from the tiles they have. Scrabble is best for ages 4 and above.
Monopoly
Unleash the potential businessperson in your kid by playing Monopoly. Kids can choose from its many markers including the car, iron, and dog. They learn to count and make decisions with the play money and the property cards. They also learn some grown-up concepts like budgeting, saving, and financial planning. Monopoly is designed for ages 5 years and above .
Pictionary
Kids around 8 years old will learn to use their imagination in Pictionary. They will also learn to draw and to think under pressure as each player is only given a minute to guess what his team-mate is drawing.
Chess
Mind games like chess will enhance your kid's planning skills. It also enhances their memory, as they need to remember the move of each piece. Their moves should be well thought out because one wrong move can make them lose the game. Kids can start learning chess at around 5 to 9 years old.
Puzzles
All kinds of puzzles stimulate the brain because they let kids work their minds to fit puzzle pieces or solve riddles. Puzzles cater to kids of all ages.
Another great way to have fun and spend time with the family is to make your own board games for kids. At the same time, the activity will also stimulate your kid's creativity. All you need are some art materials like cardboard, scissors, and drawing and colouring materials. Always supervise the kids when they are using scissors.
Besides board games, there are other table games that can also be educational, including card games (memory, Uno, and sevens) and dice games (backgammon, boggle, and beetle). Visit our ActiveActivities Directory for more tips on kids games and other kids activities.
Educational board games can be considered as the best toys for kids, especially in their formative years. There is always a board game for every essential skill that needs to be developed and improved. Spend some time with your kids and teach them a thing or two about life. Get them to play board games!
Articles related to your search: