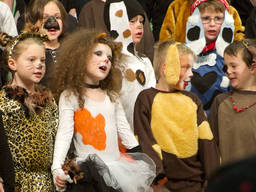 Theatre schools for kids regularly hold acting and drama lessons for children. Theatre schools also provide venues where kids can perform onstage and wow the audience. Australia has a rich history in theatre, with the National Theatre Drama School as the country's oldest drama institution. Let your kids join a theatre group and ignite their passion for theatre now!
Category: Performing arts
Approximate age to start (name of activity): 3
Approximate price: $15 per session
Gear/equipment needed and approximate price range: Costumes, props
This activity comprises of: Acting, directing, production designing, scriptwriting
Best period of the year: Year-round
School holiday programs available: YES
A video of Theatre schools for kids
Kids performing the popular play "Hairspray" for a performance in their theatre school.
Information on theatre Schools for Kids
Are theatre schools for your kids?
Theatre is best learned under the careful instruction of skilled teachers. Theatre schools for kids give children the opportunity to learn from professionals who have years of experience in the field of theatre.
Theatre schools for kids regularly offer acting classes and lessons. These activities for kids teach children the proper ways of projecting their voices for the audience, the proper ways of using hand and body gestures while acting, and the proper ways of expressing different roles. These skills are difficult to master without the help of an instructor.
Other benefits of enrolling in theatre schools for kids include:
Improves cooperation
Staging a play requires children to cooperate with one another. All actors should know their parts and roles, while those working in the background (directors, musicians, sound technicians, light technicians, stage crew) should also know their part during a play. Theatre is always a collaborative effort, so children must learn to develop their ability to cooperate with one another to be successful.
Give kids opportunities to perform
Theatre schools for kids usually stage plays, giving children the opportunity to perform onstage. It improves their communication skills and builds self-confidence. It also allows children to express themselves through the art.
Holiday pastime option
Enrolling in a kids drama workshop during the summer holidays is a great option for holiday kids activities. Drama lessons keep children entertained and will also develop their social awareness by making them learn from different plays from all over the world.
Australia has various theatre events that children would want to watch and draw inspiration from. Dame Judith Anderson and Nellie Stewart are examples of Australian acting legends. The Brisbane Festival in September also spearheads theatre as one of its main events.
If your children wish to engage in musical theatre, they can get complementary dancing lessons from dancing schools or singing schools.
Get Your Kids to Join Theatre Schools!
Toddlers starting age 3 can enrol in theatre schools for kids. They can perform simple pieces while older children can perform more complex pieces.
Signing up for a theatre school costs around $150 for 10 sessions or $15 per session. Expect to pay additional costs for extravagant costumes and props.
Theatre schools usually adhere to a particular style. Some theatre groups prefer doing musicals while other theatres prefer staging classical pieces. Research and find out which kind of theatre fits your child's taste. If your children wish to engage in musical theatre, they can get complementary lessons from dancing schools or singing schools.
Some art schools offer theatre courses, but it's also possible to find a school that specializes particularly in theatre. Check the ActiveActivities Directory for more information on theatre schools in Australia.
Join a theatre school near you!