Is my child old enough to start violin?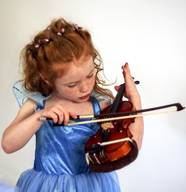 Somewhere between four and eight years is the best time to begin a violin journey.

That's a wide range, and your child will fit in based upon a number of factors such as the child's maturity, motor control, available family time and most of all: your level of patience as a parent.

Beyond these factors, parents can use the following simple test to determine musical readiness.

1. Physical Robustness Have your child extend her arms and hands fully in front of her body. Can she support a loaf of bread placed in her hands for any length of time? Place a full margarine box on her left collar bone. Can she support and maintain it in this position only with her chin and/or jaw bone? Try for 30-60 seconds.
2. Ability to Focus
Is your child able to focus her attention on a particular task for at least 5 minutes without being distracted by internal or external stimuli? That's a skill she'll need to benefit from structured violin lessons.

3. Tempo and Rhythm Awareness
Can your child repeat rhythms? For example if you vigorously clap the rhythm of "Happy Birthday to You" can they repeat it accurately and with similar vigor?

4. Pitch Awareness
Can your child accurately duplicate the pitches of a simple song?
Ask you child to sing along with a familiar song such as "Twinkle Twinkle Little Star" If you have a keyboard, use middle C as the starting note.
When singing a new song, does you child easily follow the contour of the melody, even if the pitches aren't 100% accurate?

5. Taking Direction
Will Your Child Consistently Take Direction from a Teacher?
To be ready for structured music lessons, your child must be willing to follow directions and exhibit appropriate behavior while in the presence of an adult from outside his family. This is especially critical for students of age six and below.

Ideally, your child should be able to achieve all five parts of this evaluation. Doing so, will make your violin journey more rewarding and enjoyable. Even if you child isn't quite ready for structured music lessons today, there's plenty that you can do to prepare them for lessons in the future. Explore a musical enrichment program in your community. Attend concerts as a family. Sing, clap and bring music to the center of your family's activities. The rewards will be many for your budding little violinist!