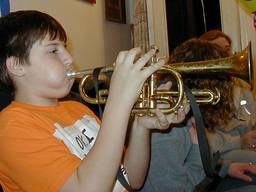 A young boy blowing air into a cornet
The cornet originated in France in 1820. It was popularized by J.B. Arban, a French cornet virtuoso. In its modern form, the cornet is a brass instrument that resembles the trumpet and is often used in classical music. Famous Australian cornet players include Brian McGuinnes and Eric Holroyd. If your kids love playing solos in brass bands, then the cornet may be instrument for them!
Category: Performing Arts
Approximate age to start playing the cornet:10
Approximate price:$50/lesson
Gear/equipment needed and approximate price range: Cornet ($200-$600), Cornet sheet music ($45)
This activity comprises of:Playing instruments, performing, practicing
Best period of the year: Year-Round
School holiday programs available: YES
A video of Cornet for kids
A 9-year-old girl plays the melody of Edelweiss on the cornet
Information on Cornet for kids
Is playing the cornet for your kids?
Kids activities that involve playing wind instruments improve a child's discipline, memory, and lung power. If your kids like to play in a group, then let them try playing the cornet, a brass instrument that has a conical bore, compact shape, and mellower tone quality than a trumpet. It produces sound when players blow into the mouthpiece, creating a vibrating column of air in the tubing. The standard tuning of the cornet in brass bands is in Bb, and its pitch range is the same as the trumpet and the flugel horn.
Why is the cornet a good instrument for your kids?
Let your kids be the star of the show
Because of its high tone, the cornet plays the melody in British style brass bands, concert bands, and wind ensembles. Playing the melody means that your kids get the most exposure and also play the most memorable parts of an ensemble.
Improve your kids' teamwork
Cornet players usually perform in concert bands or wind orchestras. This gives your kids an opportunity to work with other children and improve their team building skills.
Playing the cornet gives kids opportunities to earn scholarships
By participating in competitions using the cornet, your kids can earn scholarships for music schools within the country of abroad. Professor David King, a professor in National Australia Brass, earned a scholarship to study band musicianship at Salford University College, Manchester, after being hailed as Australian cornet champion in 1982.
Get your kids to start playing the cornet!
Kids from age ten can begin playing the cornet. It's recommended that children start playing the cornet before moving on to the trumpet, since the weight of the cornet is more evenly balanced and is closer to the body. Toddlers can train themselves with a recorder or a flute, a lighter wind instrument.
A cornet for kids can cost around $200 to $600. It's always more advisable to visit local music stores to check for prices and available instruments than to simply buy an instrument online. Having your child get a good feel of the instrument first before buying it is crucial. Music stores also offer cornet sheet music for around $45. It's best to purchase sheet music to ensure that the sheet is accurate.
If you're serious about giving your kids the opportunity to be good at playing the instrument, you may opt to enrol your kids in music lessons. You can search online for cornet teachers who provide on-on-one lessons, which may cost around $50 an hour. To ensure that you get the right teacher for your child, try to research on your teacher's history and achievements. Some recognized teachers are also certified to teach music. To learn more about teachers, visit our ActiveActivities directory for more information.
If you're looking for cornet music for kids, look at 19th century compositions because they use a lot of cornet for their melodies. You can also follow events supported by the National Band Council of Australia to stay updated regarding activities for kids that involve promoting the use of cornet and other brass instruments.
Get your kids to express themselves by playing cornet!