Casting agencies for kids in NSW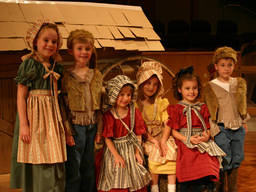 Do your kids love movies? Do they love live shows with singing and dancing? Or do they love volunteering when a magician or performer asks for help with a kids activity at a show? Then get their names on the books with the best casting agencies in NSW!
Category:Casting Agencies
Approximate age to start auditions:0+
Approximate price:$0-$200 (Free sign up, membership fees vary
This activity comprises of:Performing, practicing, rehearsing, composing
Best period of the year:Year-Round
Most appropriate region: Sydney
A video of Casting agencies for kids in NSW
Kids auditioning for a musical in Sydney
Information on casting agencies in NSW for kids
Would your kids benefit from signing up with a casting agency?
Outgoing kids and even toddlers who love to sing and dress up might be perfect to enrol up with a casting agency. What seems like activities for kids today might be a star career for your talented child tomorrow. Casting agencies for kids in NSW can make an everyday youngster into a star- they could be the key to big things for your family!
It may be that your little one is destined for the big time. But how can they take their first steps towards this kind of career? Casting agencies are the answer, and NSW is one of the best places to seek one out. Casting directors in NSW are always on the lookout for rising young talent. Drama associations for kids in NSW can also help develop talents in this area.
Why is NSW a great place for your kids to sign up with a casting agency?
Australia has a long proud history of performing arts and filmmaking, and many of these plus shows and other types of entertainment are made in NSW, particularly Sydney. Some of these include Fat Pizza, Police Rescue, All Saints, The Great Gatsby, The Matrix, Priscilla: Queen of the Desert and BMX Bandits just to name a few. Talent agencies in NSW havebeen responsible for some of our country's biggest stars, and your little one could be the next!
If you don't know any of the names above, perhaps you'll recognize some of these ones:
Nicole Kidman
Guy Pearce
Lisa McCune
Pia Miranda
Alex Dimitriades
Baz Luhrman
Miranda Kerr
These are all talented, successful Australians who are actors, directors and models both here at home and abroad. All of them have used casting agencies as part of the process to get their work.
So if your kids are enthusiastic about acting, music, television, theatre and the arts - or are just downright beautiful- find an agent for their talents today! Modelling agencies in NSW are always looking for flawless faces to feature in catalogues, magazines and many other types of print and advertising campaigns.
How can you prepare your kids to sign up with a casting agency?
Aquinia Queenie' Van de Zandt, an accomplished Australian actress and recent organiser of the Australian production of the musical Annie says that being successful in an audition is down to90percent preparation, 10 percent talent. This goes to show that practice makes perfect, and if your kids can impress a casting director at a single audition, they have the potential to be very successful as a performer. Talent and modelling agencies are looking for charisma and personality, not a CV when it comes to kids.
Get your youngsters to participate in kids activities that will build their confidence and reduce their shyness or stage fright. Public speaking or acting classes and lessons for kids can be great for this. You can also send them to casting calls so that they can get a feel for this sort of event. There are also modelling workshops available for kids who love to frolick in front of the camera.
Model agencies for kids in NSW are becoming renowned as first class thanks to shows such as Australia's Next Top Model.
Jennifer Hawkins and Elle McPherson are both Sydney born beauties!
Make sure your kids have a good quality photo taken too, as a headshot (passport style photo but without restrictions on facial expression) will usually be required by a casting agent. It should show your little star's outgoing personality - nothing overly serious.
If you want your kids to have flawless posture and manners, you can also consider sending them to deportment classes in NSW. This can improve their self esteem and social skills as well as preparing them for potential modelling or acting opportunities.
Get your kids to sign up with a casting agency in New South Wales!
A casting agent can help you and your child audition for events and projects that will suit them best.
For instance, your child may love singing, but perhaps they have such a great face that they would get lots of modelling opportunities.Or perhaps they love dancing, but their singing voice shines through. Whatever their best talents are,a casting agent is one of the best way to discover them.
Acting classes and lessons for kids in NSW are a great way to build their confidence, and to start making contacts in the industry too.
Auditions in NSW are constantly on offer, so your kids will have endless chances to show their skills once they have an agent and are ready to participate in them!
Even if your children don't want to make a full time career of performing or modelling in the future,there's always lots of extras casting in NSW too. So it can still be a fun source of part time money as well as fun and educational!
Performing Arts school holiday programs for kids in NSW are also a perfect way to spend time between terms.
If your kids love being the centre of attention, sign them up with a casting agent today!
Casting calls in NSW are happening all the time, so why not let your kids take advantage? Check the ActiveActivities directory for more information.