Casting agencies for kids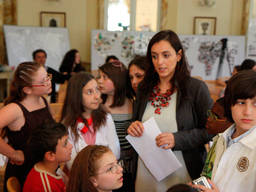 Young actors and their casting agent.
Casting agencies play a huge role in getting your children into an acting or modelling career. They represent your kids and they have the right contacts and connections to get your sons and daughters scheduled for auditions. They serve as talent managers. Do your kids like performing or modelling? Do they dream of becoming a star? Casting agencies for kids can help you manage their future!
Category: Performing Arts
Approximate age to start hiring casting agencies: Depends on the parents (there are model/actor babies and toddlers), but an age we would recommend to start would be around 10 years old.
This activity comprises of: Auditions, training, workshops
Best period of the year: After school and school holidays
A video of Casting agencies for kids
See how casting agencies choose the kids they would like to represent by conducting an audition or a casting call.
Information on Casting agencies for kids
Are casting agencies great for your kids?
Casting agencies for kids can help increase your children's chances of getting big acting or modelling jobs. They can help develop your toddlers' talent. Talent agents are perfect for kids who have parents with busy schedules, or parents that have little knowledge about the industry.
Casting agencies have three primary roles:
Guiding your kids through their career
Finding casting opportunities and auditions
Negotiating the terms and conditions for each project
When looking for the right agency, always bear in mind that not all of them are reputable. Beware of scams. Remember that casting agencies don't ask for fees. They also don't require your kids take modelling courses or acting lessons; although you have a choice of sending them to acting or modelling classes if you feel that they need these to hone their talent. Here are some tips that can help you look for trustworthy agents for child actors and models.
Ask for recommendations.
If you know stage parents who hired agents for their children, ask about their experience with the agency. Do they have success stories? How do they treat their talents?
Do some thorough research about the agencies you are considering.
The casting agencies in our ActiveActivities directory are all reputable, but would their environment work for your kid? Check their website to see what kind of services they provide and their specialisations. If your toddler is more of a model than an actor, and the agency you are checking is an acting agency, it is better to look for another one. We also suggest that you find out the specific criteria they are looking for.
Consider the number of children they represent.
The bigger the client base, the better. However, if the agency already represents a lot of kids similar to your child's age, looks, and characteristics, his or her chance of getting landing a project might get reduced.
To determine the agency that can properly represent your child, you have to make sure that your child has chemistry with the agent.
Credible agencies incorporate fun activities for kids to their trainings and workshops so your kids can enjoy while learning.
Getting help from casting agencies does not guarantee acting or modelling work.
Agencies are usually approached by companies looking for talented kids. The agencies will then schedule the kids for auditions. If your child gets chosen, then you will be called. That's how casting agencies earn since they don't ask you for any fees. If the talent they are handling gets casted, they get a commission from the client, usually 30% of the talent fee.
Check our ActiveActivities directory for the list of casting agencies in Australia. We also have tips and suggestions for kids activities involving modelling for kids and acting for kids like lessons, classes, and workshops.
Safeguard your children's future by hiring the right agent. They can get your kids to land international engagements!