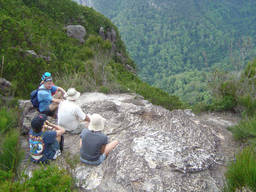 Gather up the whole family to go bush walking in Victoria, which have a wide selection of urban parks, national parks or reserves, or even full blown forests in the countryside. Go backpacking, cycling, canoeing, and a whole lot more while enjoying year-round social events in between, organized by the local bush walking club.
Category: Outdoor & adventure
Approximate age to start bush walking: 4
Approximate price: FREE to $15
This activity comprises of: Hiking, trekking, nature trips, camping, walking tours
Best period of the year: Dry season
Most appropriate region: Wimmera, Mallee, Melbourne
School holiday programs available: YES
A video of Bush walking in Victoria
The whole family going on a camping trip in Victoria.
Information on Bush walking in Victoria
Why bush walking is great in Victoria
The planet is seeing less forests, grasslands, and even deserts in favor of urbanisation and the growing global population. Fortunately, the state of Victoria has a lot of forests, urban and national parks and reserves, perfect for bush walking for the whole family. Opportunities for kids activities are limitless, provided it is done with adult supervision. In addition, the fresh air and the scenery is good for the health of both you and your kids.
The many options for bush walking activities for kids provided by the state of Victoria can generate a sense of spontaneity for kids, in comparison to the more grown up-focused hiking and camping environments in states like rocky NSW and forest-filled Queensland. There are enough activities for kids you can choose from, like walking trails, trekking, camping, and walking tours in Victoria. Hiking in Victoria would be excellent as well, for both kids and adults, provided you have the appropriate gear.
Bush walking for kids in Victoria is good exercise and is within the physical capabilities of many kids and adults. However, one will do better and enjoy it more if he or she is fit before going. The exercise needed is the kind that builds up the heart and circulatory system; walking, climbing stairs, swimming, cycling, and jogging.
If you are not walking with an experienced leader, get a map of the area and plan your route before starting. Try to estimate how long it will take and where you want to have lunch or camp. Someone in the party must be able to navigate. It is dangerous to go into the bush if you do not understand how to read a map. Many clubs will help members become proficient at navigation, plus they offer some of the best walks in Victoria. In addition, know the elements of first aid and carry a basic first aid kit at all times. Bush walking Victoria and other groups provide courses available in basic and advanced bush walking skills and first aid.
To ensure the safety of your children and/or toddlers coming along for the bush walks, trekking, camping, or any day trips in Victoria, the friendly volunteers from the non-profit organisation Bushwalking Victoria have a booklet detailing the safety guidelines that an inexperienced bushwalker must follow on walking trails and tracks, which can be downloaded for free from their website. Victoria's local government also advises to take proper caution from the sun, changing weather, and dangerous animals, as well as utilising your Medicare benefits and travel insurance.
How much would it cost in Victoria?
Bush walking is relatively costly, particularly with trekking gear, camping gear, and hiking gear, but it can be very cheap as well depending on the activity. When starting, not much equipment is needed, though it has to be chosen well. For day walking tours of Victoria you need a small pack but if you wish to camp overnight you will need a good sleeping bag and backpack, whilst a tent and stove can be shared with others. Additionally, the right clothing ensures you enjoy bush walking in both comfort and safety. Your clothing is your first line of protection from the cold, the wind, the rain, the sun, insects, snakes and the scrub. If you need help in choosing your equipment, you may ask the specialist shops and clubs in and around Victoria.
For a list of bush walking trails in Victoria, visit our ActiveActivities directory to get started with your adventure!
Articles related to your search: