Outdoor Activities for Kids in New South Wales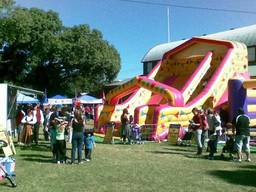 The New South Wales holidays are a great time for the family to experience and enjoy together the great outdoors of NSW. The state offers a lot of school holiday activities for kids that they can enjoy all year round. New South Wales has a large, diverse landscape that offers unlimited outdoor activities for kids of all ages. Its capital, Sydney, is also one big playground. Sydney outdoor activities will surely satisfy your kids' hunger for adventure. Allowing them to explore and burn their energy in physical activities like outdoor activities is good for their mind and body. Spend the holidays in NSW and see for yourself!
A video of Outdoor Activities for Kids in New South Wales
Jamberoo Action Park is the largest theme park in New South Wales! It features water rides, amusement rides, water slides, rapids, and a wave pool.
Information on Outdoor activities for kids in New South Wales
Why outdoor activities in New South Wales are great activities for your kids?
New South Wales has a wide range of diverse areas to visit and explore, from subtropical forests to desert lands, from the Snowy Mountains to pristine beaches. Whatever kinds of outdoor activities your kids want to try, NSW is a great place to enjoy them, with wonderful experiences waiting for children to discover.
Beaches
The beaches in New South Wales are some of the best surfing beaches in Australia, including the country's surfing mecca, Byron Bay. Bondi Beach and Manly Beach are also among the popular surfing beaches in Sydney and the world. Aside from surfing, kids can also enjoy swimming and other exciting water sports like windsurfing and sailing, and other kids activities like beach volleyball and sandcastle building. Despite being a densely populated state, NSW's coastal regions have numerous empty, open, and peaceful beaches. The coastal regions also have surfing schools where your kids can learn how to surf as well as beach safety. The beaches in NSW are patrolled by volunteer lifesaver, making sure that your kids are safe in the water.
Sports
Rugby and AFL are the most popular sports in New South Wales. Take your kids to the stadiums and watch an exciting game of these sports. What's more fun is to enrol them to sports clubs for them to get a chance to play rugby or AFL. Outdoor activities like playing sports promote physical activity while keeping the heart, mind, and body healthy. They even get to play with their friends!
Adventure
Adventure activities are exciting ways for us to explore and marvel on the natural beauty of our surroundings. For the adventurous kids, New South Wales offers them plenty of choices of outdoor adventure activities. During the winter season, bring them to Snowy Mountains to experience the adrenaline-pumping snow sports. Snowy Mountains is home to Mount Kosciuszko, Australia's highest mountain. It is also home to the biggest ski resorts in the country.
Bushwalking, hiking, and outback tours are also popular adventure activities in NSW. Barrington Tops offers a range of exciting activities, from white water rafting and canoeing to downhill mountain biking. Experience the rainforest from above through the Illawarra Fly Treetop Walk, a unique attraction nestled in the treetop canopy about 30 metres above the ground. National parks are also great places to go for hiking, camping, or just for a picnic. NSW has more than 780 national parks and reserves ranging from rainforests to waterfalls, bush lands, and outback deserts. The first national park in Australia can be found in the southern outskirts of Sydney, the Royal National Park.
Camps
School holiday Kids camps in NSW range from boot camps, adventure camps, sports camps, and holiday camps that offer workshops for acting, music, dance, or arts and crafts. Camps are one of the coolest outdoor activities that your children can do during the school holidays. They get to keep active and learn new skills while having fun with old and new friends. Overnight adventure camping with the family is also a nice way to spend some time together.
You don't have to spend much to enjoy these outdoor activities since many of them are free activities for kids! The playgrounds and parks are great places for picnics and walks. Cycling is a good outdoor activity to keep your kids physically active and healthy. Cycling is a free and healthy activity that is also good for the environment. You can find a list of bike tracks in New South Wales in our ActiveActivities Directory . We also have a complete list of the fun nature activities for kids in New South Wales, kids activities in Sydney, and things to do with kids in Sydney and other regions of NSW.
New South Wales offers a range of exciting outdoor activities for your kids, as well as equally fun indoor activities and events for kids of all ages, including babies and toddlers. Your family will never get bored in NSW!