Family Holidays in Queensland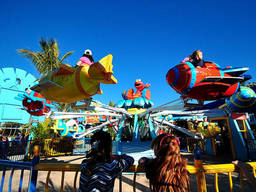 When looking for the perfect place to spend the family holidays, it is a must to consider the places where there are different kinds of activities offered for the whole family, especially the active and adventurous kids. Are you in for exciting and adventure-filled family holidays?
A video of Family Holidays in Queensland
Queensland has so many theme parks and spectacular places to visit, making the family experience very enjoyable. Follow the Shortt family on their Queensland adventure and see what we're talking about!
Information on Family Holidays in Queensland
Why spending the family holidays in Queensland is a great activity for your kids?
Also known as the Sunshine State, Queensland is almost always having a sunny weather all throughout the year. It is also home to 10 of the 30 largest cities in Australia, with all sorts of natural and man-made attractions. Lots of outdoor activities for kids in QLD are offered as well as safe and child-friendly Queensland holiday packages and accommodations. Your family holidays in Queensland will never be boring as there are a wide range of family and kids activities to choose from. Be it adventure and sports, art and culture, entertainment and events, or theme parks., there is a holiday option that will suit the kids and the whole family. Here are some of the best destination spots in QLD.
Gold Coast
Family holidays on the Gold Coast are not complete without staying at Surfers Paradise, the most famous beach in Gold Coast, and the gateway to a fun summer holiday in Australia. Gold Coast also has the best theme parks that both little and big kids will love. Swim with dolphins at Seaworld, watch your favourite movies at Movieworld, and experience the fastest and the most exciting rides at Dreamworld. Gold Coast is considered as a major holiday spot in Australia.
Brisbane
As Queensland's capital, Brisbane is the centre of fun holiday activities in the state. The city is known for its significant music scene, with numerous performing arts centres and events and festivals to keep your kids entertained. Brisbane has over 27km of bicycle pathways, an active outdoor adventure that is free.
Far North Queensland
Family holidays activities in Far North Queensland include a relaxing spa for the parents, and the furry and cuddly animals of Island Farm for the kids. Kids activities are offered with family holiday packages and accommodations in hotels during the school holidays. Far North Queensland's main attraction is the city of Cairns, serving as the gateway to the Great Barrier Reef, the world's largest coral reef system.
Sunshine Coast
For a relaxing beach holiday, the white sand beaches in Sunshine Coast will never disappoint. Its most notable beaches include the Noosa Main Beach and Kings Beach. The kids can also get thrilled with the crocodiles and reptiles at the interactive Australia Zoo. Sunshine Coast is home to five national parks that protect the natural biodiversity of the region.
You can browse our ActiveActivities Directory to find out what's on in Queensland during the time of your stay, Our directory also has recommended packages and accommodation deals in Queensland that will make the most out of your family holidays.
Queensland is the ideal destination for family holidays with so much to see and do for all ages!
Articles related to your search: