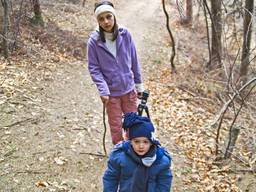 Help your kids experience the wonders of the Australian bush!
Bush walking is a uniquely Australian term for taking a long walk outside in the natural world. In other countries you would probably hear this activity referred to as hiking or trekking. Why not "go bush" this weekend?
A video of Bush Walking for Kids
There are enormous benifits both pysical and mental from Bushwalking and Hiking. Watch this vieo, and you'll surely get your kids to a bushwalking trip next weekend!
Information on Bush Walking for Kids
Is bush walking for your kid(s)?
Do your children like exploring? Then we think they might love bush walking. You can keep it simple with a walk along an urban park trail or nearby forest, or you can go to a national reserve or you could even plan bush walking backpacking holidays, visiting iconic areas of Australia such as Wilsons Promontory or the Blue Mountains! Bush walking with kids is great because:
It's a simple kids' activity you can base around a camping holiday
You can pair bush walking with a range of other kids activities such as swimming and climbing weekends
It's a fun way for all the family to experience the different landscapes of Australia from the heat of far North Queensland to the alpine regions of Victoria, to the "red centre" of Australia
Bush walking and hiking cross country is a great way for kids to let off steam!
It's a great way for the family to spend quality time, getting active and having fun together
While most kids will go on at least a short walk, to go bush walking kids they will need to be old enough to walk for at least a couple of hours. Otherwise you may have to be prepared to carry them when they get tired!
Bush walking is an outdoor activity, so the usual rules about sun protection and water supply apply. The safest way for novices to learn about bush walking may be to join a club, although some clubs may impose age restrictions for reasons of insurance. Nevertheless, a club is a great way to learn about what gear to take (and what not to take), navigation and basic survival techniques.
Get your kids into bush walking!
Want your kids to learn more about Australia's wonderful outdoors? There is a network of bush walking clubs across Australia and many clubs are listed in our ActiveActivities Directory . If there isn't a club near you, church groups and schools sometimes organise bush walks. Scouts and Guide groups may also be a way for kids to get into bush walking. If your kids want to have a go at something else they could try biking activities for kids, such as bike trail riding.
If you do go bush walking as a family, always let someone know where you are going and how long you expect to be away.
If you join a club there will be a membership fee and of course you will need to provide your kids with appropriate walking boots. Other hiking gear can come later – it doesn't all have to be bought at once!
Articles related to your search: