bike trails for kids in new south wales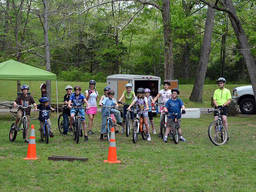 Biking can be considered as one of the outdoor sports for kids, as transportation, or as a leisure activity. However your kids utilise their bicycles, no doubt biking is very good for their wellbeing and the environment's as well. Biking is a good form of exercise that also lessens the pollution we get from cars. Biking lets you save money while gaining fitness, fun, and transport, all in one!
A video of bike trails for kids in new south wales
Are your kids in for a bumpy ride? The Bundanoon Oval Bike Track in Bundanoon, NSW is a bike trail perfect for kids of all ages, with challenging yet nonhazardous obstacles that will add a twist to their ride.
Information on Bike Trails for kids in New South Wales
Why biking on bike trails in New South Wales is a great activity for your kids?
Biking is one of the most common forms of recreation and kids activities in NSW. In fact, the NSW government promotes cycling-friendly communities. Two kinds of biking common in NSW are road biking and mountain biking. The places to go cycling in NSW is on mountain bike routes, national parks, through rainforests, and along beachside bike trails. The wide roads and bike trails allow you to get around the state and ensure personal experiences of the natural areas and beautiful sceneries of NSW.
Coastline Cycleway
The NSW Coastline Cycleway aims to build a 1,400km cycling route along the entire New South Wales coastline. Right now, 300km of the bike trail are already in place. The route includes off-road shared pedestrian and bike trails as well as on-road bike trails on local streets. The route enables cyclists to appreciate spectacular coastal views. Cyclists also have access to beaches, picnic areas, and play grounds.
Manly Damn Mountain Bike Track
This bike track is one of the best bike trails in Sydney, enjoyed by all kinds of cyclists, from beginners to advanced riders. It is quite a challenging bike trail but it is also easy to get off your bike and walk the parts that are beyond your abilities. Finish off your ride with a picnic with the family at the Manly Dam Reserve.
The Cooks River Pathway
The Cooks River pathway is one of the oldest shared pedestrian and bike trails in Sydney. It extends from Mason Park to the Cooks River entrance into Botany Bay. The pathway provides access to railway stations, parks, and recreation and sports facilities.
Nightcap National Park
Cycling in the rainforests of Nightcap National Park lets you and your children explore the lushest and best preserved subtropical rainforests in New South Wales. The amazing features include Minyon Falls and Protester Falls. Also located at the Nightcap National Park is Rummery Park, a great picnic and camping area.
Get your kids to bike on bike trails in New South Wales!
To get started with this fun activity, of course you first need to have a bicycle. You can give your kids a bike for their birthday or Christmas, or just rent a bike for kids at the bicycle hires located at the bike trails and sports shops. Find in our ActiveActivities Directory where you can rent a bike in Sydney and the rest of New South Wales. You can also find in our ActiveActivities Directory all the cycling routes and available bike tours in NSW. Find the most suitable bike trails for you and your kids, depending on their abilities to ride bikes.
Biking helps your kids gain fitness. The activity also gets them to enjoy the outdoors. Biking is considered as one of the most popular sports and recreation activities for kids and adults. If your kids are just starting to learn to ride a bike, it is best to teach them in your background or at your neighbourhood's playground. We suggest that you should first let your kids ride a bike with training wheels. When you think they are ready to take on the bike trails, always have them supervised by an adult. For additional safety, have them wear protective gear like a helmet and knee and elbow pads.
Biking is one of the fun and rewarding activities that are for free. You get to explore the beauty of New South Wales, spend time with the family, and become fit and active all at the same time without costing a lot. Cycle down the bike trails in NSW with the family during the weekend!
Articles related to your search: