Bike trails for kids in Sydney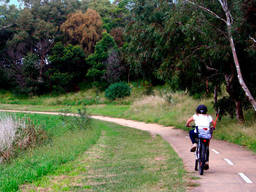 Cycling in Sydney is a great way to appreciate the natural beauty of the city. There are many bike tracks in the city where you can go on bike tours and family rides. There are plenty of places to go biking with safe cycling routes along the beaches and in the parks. Cycling is a (often) free and fun activity that you can enjoy with the whole family. It is also a great form of exercise and an earth-friendly mode of transportation. Go green and healthy!
Category: outdoor & adventure, cycling, sports
Approximate age to start biking on bike trails: 4 years old
Approximate price: FREE, or very low entrance fee (around $10) to National Parks, and from $10 an hour to hire a bike for your kid
Gear/equipment needed and approximate price range: helmet ($25), knee pads and elbow pads ($17)
Best period of the year: All year-round
School holiday programs available: NO
A video of Bike trails for kids in Sydney
The Sydney Olympic Park has over 35 kilometres of bike trails, including a dedicated cycling path for kids.
Information on Bike trails for kids in Sydney
Why is Sydney the best location for bike trails for kids?
Sydney is one of the cities in Australia that promote safe cycling. The bike trails for kids in Sydney are safe, convenient, and makes biking a fantastic way to travel, a bit funnier and sportive than bush walking in Sydney! Sydney has a wide range of cycling paths that can help you avoid expenses like petrol and public transport. The bike trails are also great places for your children to learn to ride a bike. Here are some of the best bike trails for kids in Sydney:
Manly
Manly has over 20 kilometres of bike trails that leads you to discover coves, beaches, and coastal views, North Head being one of the most popular with stunning views to Sydney Harbour. You can choose to take on the tracks on your own or join guided tours run by expert local guides.
Centennial Parklands
The Centennial Parklands is a favourite among the locals and visitors alike. Each year, the park is visited by 700,000 cyclists. The Grand Drive inside the park is a 3,500-metre loop which includes a dedicated bike path. Centennial Parklands spans 360 hectares where your children can enjoy kids activities in facilities such as the playgrounds, recreational areas, and entertainment precincts.
Sydney Olympic Park
Sydney Olympic Park has three set circuits that vary in difficulty and distance with over 35 kilometres of bike trails. There is also a dedicated safe cycling route for the little ones. All the bike trails in Sydney Olympic Park are located close to playgrounds, picnic and barbecue areas, fountains, and toilets.
Sydney Royal National Park
The Lady Carrington Drive in the Sydney Royal National Park is the most popular among the bike trails in the park as the majority of the trail is level and flat, ideal for families and beginners.
Sydney Park
The bike trails in Sydney Park was designed specifically for kids. The tracks resemble a mini-road network with working traffic lights and pedestrian lanes. This is a perfect place to teach your kids road safety skills.
Bike hires in Sydney has bicycles for all ages and for all levels of riders. Rates depend on the type of bicycle. It usually starts from $10 per hour. You can also purchase bikes for your kids at bike shops and sports stores around Sydney. The shops sell a huge range of bicycles including a cruiser, road bike, mountain bike for kids, and a tandem bike for you and your toddlers. Make sure your kids always wear safety gears including a helmet, elbow pads, and knee pads.
You can look up in our ActiveActivities Directory for all of the bike trails in Sydney as well as bike hire locations. Looking for more fun activities for kids that you can do in Sydney? Our Directory has them all.
Whether you are in Sydney on a family holiday or just wanting to explore the city, activities for kids like cycling is a fun and convenient way to experience the city's popular attractions. If you don't have a destination to go for a bike ride with the family, heading out on the bike trails for kids in Sydney can be the best idea!
Articles related to your search: