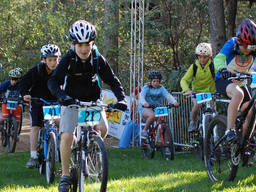 Bike trails make two-wheel outdoor and adventure fun for the whole family!
Australia is blessed with numerous bike trails in interesting locations. These are tracks set aside specifically for cyclists. Bike trails are a safe and fun way for you and your kids to have an outdoor adventure!
A video of Bike Trails for Kids
Watch this video about kids racing for the gold medal at this bike trail competition. Lot of fun in nature!
Information on Bike Trails for Kids
Are bike trails for your kid(s)?
Do your kids love playing outdoors and hiking? They might love going on bike trails with you for a whole family escape at weekends! Bike trails for kids can be relatively safe off-road kids activities and a great way for the whole family to see the bush and scenic country towns as well as metropolitan centres.
Benefits of bike trail activities for kids include:
Road bike trails can be a great way to explore Australia's capital cities
They are a great way to experience nature close up
Many bike trails wind past cafes, so it's easy to rest and refuel
Kids of almost all ages can enjoy bike trails. Whether your kids like to ride fast or take it slow, they can go at their own pace on bike routes as long as they don't stray too far ahead or dawdle behind. Some children get up their confidence quickly on bikes; other kids may take a little longer to get going. Even toddlers can go along in a carrier.
A great way to start getting ready for bike trails is to get kids to a bike or traffic school. These places offer a fun educational experience that helps kids become familiar with bikes and general road safety, including what to do at traffic lights.
Kids can learn to ride a bike at any age from 3 upwards. All the gear they will need is a helmet - and a suitable sized bike of course! You might even want to start them off with something like a "Trail-a-Bike" which is a pint-sized bike with a single wheel that attaches to the back of your adult bike. As your kids grow up they might like to try going off-road on a track and you can hire a mountain bike for them to try this new experience.
Get your kids to bike trails!
Want to know more about bike trails near you? Check our ActiveActivities Directory for a flying start! If you don't have bikes of your own it's often possible to hire them for a day or weekend. Kids grow so fast that good bikes for kids can often be bought second-hand.
Bike trails are a great way to get your kids outdoors. Happy biking!
Articles related to your search: