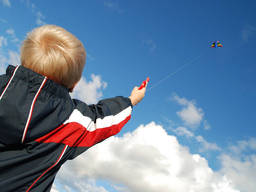 Get out in the fresh air with this classic among kids activities!
A kite is like a large sail on a string that flies in the air, powered by the wind. Popular all over Australia for its simplicity and appeal to all ages, kite flying is great entertainment on a windy day!
A video of Kites For Kids
Footage of the Kite Flying Festival in Rosebud, Australia participated by kids and their parents. Kite flying is one of the most rewarding pastimes because it allows the whole family to spend some quality time together.
information on Kite Flying For Kids
Is kite flying for your kid(s)?
Do your kids love being outdoors? If they enjoy running around outside they might enjoy kite flying. Kite flying can be a bit of a challenge at first but once you get the hang of it, it can be extremely satisfying and lots of fun. Why not add a creative element by getting your kids to make or decorate their own kite?
Kite flying has plenty of potential benefits including:
Good way to get some exercise
Great opportunity for family bonding
Appeals to all ages, even very young children can hold the lines and enjoy watching the kite fly in the air
Can encourage creativity with kite making activities for kids
Generally kite flying is very cheap
Does your child have a favourite cartoon or movie character? Chances are there's a kite with that character on it. Traditionally kites were a diamond shape but a quick look in any kite shop will reveal a multitude of shapes and designs from the very simple, to a dazzlingly complex box kite and beyond.
Kites do take a certain amount of patience, so if your child is easily frustrated or prefers instant gratification, he or she might find kite flying a bit difficult. Weather conditions need to be favourable as well, so that is important to bear in mind if you are planning a day of kite flying with your kids. A clear day with a moderate wind is best.
Get your kids to start kite flying!
Not sure how to fly a kite? Pre-bought kites often come with instructions. Check out our ActiveActivities Directory for kite activities and stores near. Kids may find creating and flying their own kite more satisfying than buying one from the shops.
If the weather isn't conducive to kite flying, why not try other similar activities? If your children like the idea of making their own kite, they might enjoy model making and if flying it appeals more, they might like to try a remote-controlled helicopter or model glider. Kite flying is a great way for kids to 'fly' while keeping their feet firmly on the ground!