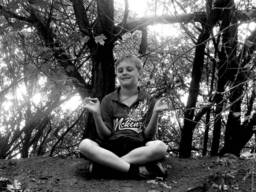 Let your kids tap in to the power of their mind with meditation!
Meditation is a form of spiritual and psychological practice which is often used as a way of focusing the mind within. It is widely practised in Australia in many different forms. Learning meditation can equip your child with valuable skills that may last them a lifetime!
A video of Meditation for Kids
This meditation guides children as it brings them closer to 'breath,' 'being' and allowing themselves to feel their feelings. Meditation is a great life tool to introduce to children and is helpful as they grow. You always hear the cliche', "Things I wish my mother taught me..." Use this meditation to teach your children how to meditate and how to recognize how they feel. Practice makes perfect and meditation takes practice.
Information on Meditation for Kids
Is meditation for your kid(s)?
Do your children suffer from stress or anxiety? Do they have difficulty controlling their emotions? Are their thoughts all over the place or do they find it difficult to focus or concentrate? Or do they just want to find a way to wind down? Meditation might be a great way to help them learn mindfulness and serenity as well as providing them with a way to relax and improve their concentration.
Although often associated with Zen practice or other forms of spirituality, including yoga and Indian based philosophies; meditation is actually a fairly widely used technique for calming the mind, reducing stress and helping to promote general health and wellness.
Meditation for kids is believed to have a number of potential benefits including:
Helps kids to improve their focus and concentration which may help them at school
Can alleviate stress for kids
Helps treat sleep disorders or insomnia
Can help reduce aggression
Meditation may make it easier for your child to access his or her creativity
Not ready to send your child on that Buddhist retreat just yet? Even if you're not sure meditation is for your child, it's easy and cheap enough to try a first session and even very young kids might sit still and listen to a five minute guided meditation. Meditation centres might even offer an introductory class at a very low price just for you to see how your kids go, so do not hesitate to ask for such discounts.
There are a number of different forms of meditation your child can try including meditation to music and moving meditation. Other great kids activities that offer similar benefits include yoga and some forms of martial art like Tai Chi.
Get your kids to start meditation!
Are you looking for an easy way for your kids to try meditation? There are plenty of options for classes and other meditation-based activities for kids Search for venues , information or ideas on our ActiveActivities Directory .
Meditation is a very cheap kids activity with kids classes at a meditation centre starting from as little as $3 an hour.
Once you have some basic techniques, meditation can be done anywhere,anytime and requires nothing but your mind!
Articles related to your search: