Health & Fitness Activities for kids in Melbourne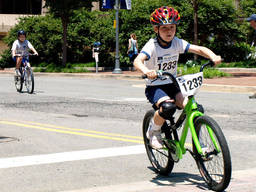 Kids are naturally energetic ? it wouldn?t be a problem to make physical activity become part of children?s everyday habits. Health and fitness activities like exercise may seem like a tedious job for them; but it could be fun when incorporated with activities for kids like games and other exciting activities. Looking for things to do with kids in Melbourne? Try some enjoyable health and fitness activities for kids!
A video of Health & Fitness Activities for kids in Melbourne
Two kids demonstrating their favorite pilates moves. Pilates is a wonderful health and fitness activity for kids.
Information on Health and fitness activities for kids in Melbourne
Why Melbourne is a great place for health and fitness activities for your kids?
Health and fitness activities for kids in Melbourne can range from sports, exercise, and games, or even just by playing. Physical activity helps children build strength, coordination, and confidence. Most Melbourne schools include physical education in their curriculum, to help encourage kids to have an active and healthy lifestyle. Experts recommend that toddlers should get at least an hour of vigorous physical activity every day, and should avoid reaching two hours of inactivity.
But it should not be only during school days that kids get to participate in health and fitness activities. Active and healthy lifestyle should continue at home and also even during school holidays. Here are some of the most enjoyed health and fitness activities for kids in Melbourne:
Sports
Melbourne was proclaimed as the World?s Ultimate Sports City and is home to the National Sports Museum. The most popular sports in the region are Australian rules football and cricket. Fun fitness kids activities like sports make workout so much fun that the kids won?t notice they?re working out. Sign your kids up to sports camps, classes, or teams. Our ActiveActivities directory has lists of available sports camps and sports centres in Melbourne and in Victoria.

Cycling is a fun activity for the whole family. Melbourne has lots of bike paths for families: Dights Falls, Collingwood Children?s Farm, Heidelberg Flats, The Boathouse Ride, Yarra Trail, Moonee Ponds Creek Trail, Maribyrnong River Trail, Bay Trail, and Westerfolds Park.
Exercise
Structured health and fitness activities are exercises led by and adult, such as calisthenics and martial arts. The city is full of calisthenics clubs, and this activity is getting really popular in Australia. Some calisthenics lessons accept young students, from babies to toddlers. You can choose from yoga, pilates, or physie. These calisthenics activities are modified to suit the kids? physical abilities. They also help kids to have not only a healthy body, but also a healthy mind.

You can do these exercises at home together with some fun warm-up activities like jumping jacks and stretching,
Games and Outdoor Activities
What can attract kids to health and fitness activities the most other that games? Unstructured activities like playing can maintain kids? health and fitness even without participating in organised sports and structured exercises. Give them a jumping rope, or play catch with them. Why not go bowling with the family?

Other than games, adventurous outdoor activities can also be considered as health and fitness activities. Swimming is always a good option. Other nature activities for kids in Melbourne include hiking and visiting the zoo.
Simple activities at home like house chores are also effective physical activities. At the same time, it will help kids develop a sense of responsibility and maturity.
Most health activities for kids in Victoria, especially sports and fitness programs, are held in gyms and sports centres. Check our ActiveActivities directory for a comprehensive list of available health and fitness programs all around Melbourne, Victoria, and the whole of Australia as well.
For optimal health and fitness results in your kids, proper nutrition should go with healthy activities. As early as possible, introduce your kids to healthy food and proper diet. Taking them to cooking classes for kids in Melbourne could be the solution! The sooner they learn how to eat healthy, the better. Also make sure that they get enough sleep and are well-rested.
Kids learn best through playing. Fitness is very significant in our lives. Try to make them understand this concept through fun health and fitness activities. Active and healthy kids are happy kids!
Articles related to your search: