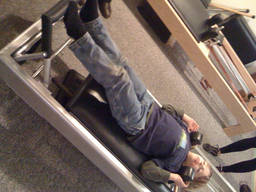 Lead your kids into a healthy lifestyle. Do Pilates together!
Pilates is a form of exercise developed in the early 20th century by Joseph Pilates. It is a physical fitness system intended to strengthen the mind and the body as Joseph Pilates believed that mental and physical health are connected. He also believes that Pilates uses the mind to control the muscles. In 1934, he discussed in his book, Your Health, about his concern with the state of kids health. He said that kids are always sitting in chairs, adults always telling them to remain quiet in one corner when they naturally need to be physically active.
Pilates have six principles namely: concentration, control, centre, flow, precision, and breathing. All of these are essential methods for Pilates to be practised effectively.
If they are not into sports, you can still ensure your kids fitness by getting them to exercise regularly. One form of exercise that will benefit their well-being is a fun fitness Pilates. Kids love imitating their parents so if they see you doing Pilates, they might be interested too.
A video of Pilates For Kids
Incorporating Pilates and yoga postures into creative games will make exercising much more fun and engaging for kids.
Information on Pilates For Kids
Is Pilates for your kids?
Pilates is designed to build muscle strength, body awareness, and most of all a healthy mind. It also helps reduce stress and gives a positive outlook in life. Encouraging your kids to be physically active at a young age can develop into good health & fitness habits. Some more benefits of Pilates are as follows:
Weight Management
Exercising encourages kid to lead a healthy lifestyle. It also helps avoid obesity.
Balance
Improved posture and coordination result to better balancing skills. It will be easier for little kids to learn how to walk if they start Pilates early.
Flexibility
The three aspects of fitness are cardiovascular strength, muscular strength, and flexibility. Pilates can help foster flexibility by doing some stretches and other positions. This can be useful in other activities like dancing, gymnastics, ballet, or even just playing at the playground.
Good Posture
Having a bad posture can cause back pain. Pilates involves having proper posture. Along good posture comes a pleasing personality and more self-confidence.
Body Awareness
Through exercises like Pilates, kids gain a better understanding of how their bodies work.
Kids as young as 2 years old can already start doing Pilates. You and your kids can attend Pilates classes together. You can enrol them to a gym for kids near you so they can be taught how to start Pilates by a trained instructor. There are some Pilates exercises for children that are easy enough to do at home if you have a mat. You can be their personal instructor or you can watch some exercise videos and try to teach the simple exercises to your kids. It is also sometimes taught in school as part of Physical Education or as a daily morning routine.
Another type of exercise for the body and the mind is yoga for kids. It is a physical, mental, and spiritual discipline which aims to achieve spiritual serenity through meditation. You can look through our ActiveActivities Directory for a list of Pilates and yoga classes available in Australia and other tips for exercising and other activities for kids.
Medical studies have proven that Pilates and yoga are also recommended for kids with physical and mental disabilities like autism, ADD/ADHD, and Down's syndrome. Practising these methods will help them be calm as well as develop concentration skills.
Along with Pilates, your kids also need to be physically active by engaging into sports and other kids activities. Do remember that Pilates is just a means, not an end; practising Pilates can help your kids become physically and mentally prepared for other activities. Encourage them to start Pilates!