Reptile Parks For Kids In The Adelaide Region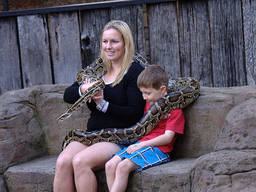 Looking for a new kids adventure that will help your kids' learning? Visit Adelaide animal parks and zoos for a day of fun and outdoor education. There are an abundance of reptile parks in Adelaide region, so why not give it a try? Your kids may get tired of the usual furry animals that they encounter during school trips at wildlife parks. Now, most reptile parks allow visitors to get up close with reptiles. Their appearance might frighten the kids at first, but they will soon find out that some reptiles are as loveable as other animals.
A video of Reptile Parks For Kids In The Adelaide Region
Urimbirra Wildlife Park has some unique species of reptiles on display. In this video we see kids learning about the different species of snakes.
Information about Reptile Parks For Kids In the Adelaide Region
Why visiting Reptile Parks in the Adelaide Region is a great activity for your kids?
Adelaide hosts some of the best national parks in the world. They are home to kangaroos and rare species of reptiles. Reptile parks in the Adelaide region are excellent places for kids to gain awareness of our scaly friends' natural habitat, threats to their existence, and ways to help save them from extinction. Learning through experience has been proven to be more effective than learning through books. Involve them in activities for kids that are exciting and educational! A visit to the reptile parks (often found in Zoos or Wildlife parks) is definitely something to consider.
Here is a list of a few remarkable places in Adelaide that have amazing reptile parks and are worth the travel.
Adelaide Zoo
Adelaide Zoo is the second oldest zoo in Australia. This non-profit zoo occupies 20 acres of land with over 1,800 animals of about 300 native and exotic species. It has a botanical garden with different kinds of floras and faunas, a Giant Panda exhibit, a flamingo exhibit, walk-through aviaries, and an impressive reptile house. Adelaide Zoo also offers immersion packages, which allow visitors to walk through the jungle with animals, such as Sumatran tigers, orang-utans, and reptiles, within easy reach. Entrance rates can range from $16 to $111.


Cleland Park
Cleland Wildlife Park has been a major attraction in Adelaide since 1967. It serves as a preservation area for native flora and fauna, and also provides educational activities and tourist attractions. It allows close encounters with animals. Wander among the kangaroos, wallabies, emus, and birds. Various reptiles are also on display. Safety is ensured with guided tours, where staff tells you which animals are safe to pat and hand-feed. They also provide facts about the Australian wildlife. Cleland Park has facilities for barbecues and picnics. It also caters for kids birthday parties.


Gorge Wildlife Park
The park houses about 50 species of exotic and native animals and 150 bird species. Kids can get close to the friendly creatures through the walk-through enclosures. They can feed the kangaroos and wallabies, and hold and take pictures with koalas. Gorge Wildlife Park is also home to exotic animals, mammals, birds, and reptiles.


Warrawong Sanctuary
Discover the Australian bushland at its natural best by taking a walk or by camping at the Warrawong Sanctuary. It houses endangered species, including bettongs and potoroos. It also has walk-through aviaries and a reptile house.
Reptile parks in the Adelaide region allow supervised involvement with animals. Kids can touch and feed the harmless ones. Immersion will teach kids that being stewards of the environment, protecting it also means protecting the animals as well as us, humans, living in it.
Your visit to Adelaide will be surely worthwhile as you and your kids will never run out of things to do. Aside from zoos and sanctuaries, Adelaide also has famous landmarks, national parks, museums, and beaches. For a full list of reptile parks in Adelaide region, and a guide of things to do in Adelaide, such as kids activities and more, visit our ActiveActivities Directory . Adelaide's numerous attractions will keep you and your kids occupied throughout your stay. The region caters to every kind of interest Ð shopping, dining, arts, entertainment, culture, nature, and adventure.
There are more kinds of reptiles other than snakes, crocodiles, turtles, and lizards. Let your kids learn more about this class of animals by paying a visit to reptile parks!
Articles related to your search: