zoos for kids in Melbourne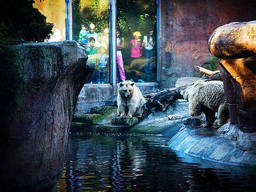 As parents, you would want your kids to still be able to learn valuable lessons even during the school holidays. One excellent way to make education for kids fun and appealing is to allow them to visit and play with the animals in wildlife parks and zoos. Trips to zoos and other educational sites are one of the most recommended activities for kids in Melbourne. Victorian school holidays last for almost two weeks. Make the most out of their holidays with fun things to do with kids in Melbourne!
A video of zoos for kids in Melbourne
Explore the underwater world without getting wet! Here's a sneak peak of what your kids will see at the Melbourne Aquarium.
Information on Zoos for kids in Melbourne
Why going to zoos in Melbourne is a great activity for your kids?
Australia has fascinating collections of flora and fauna. Zoos provide for recreation by showcasing these wonderful species of plants and animals by allowing visitors to take a look at them, even walk through the natural habitats and encounter the animals up close. Most importantly, zoos provide for environmental education to the visitors, and conservation and shelter for animals, especially the endangered species. Melbourne zoos are perfect destinations to take your kids if you want them to escape the busy city for a while. They will also get to develop awareness about environmental issues and how they can help.
Melbourne Zoo
Melbourne Zoo is the oldest zoo in Australia, opened in 1862. It is home to more than 300 animal species, native and exotic. Just 4km from Melbourne CBD, Melbourne Zoo has everything from butterflies to elephants. The top attractions include the butterfly house, orang-utan sanctuary, trail of the elephants, and presentations of the zoo keepers about the animals and their conservation.
Werribee Open Range Zoo
Go on a safari adventure and an African wildlife experience at Werribee Open Range Zoo, which displays Australian, African, and Asian animals located on the Werribee River in Werribee Park. The visitors can tour the zoo by riding a safari bus which will take them on a 50-minute guided trip around the zoo, allowing them to encounter the animals up close.
Healesville Sanctuary
Just an hour from Melbourne, visit over 200 species of Australian birds, mammals, and reptiles, displayed in a beautiful bush land setting at Healesville Sanctuary. The sanctuary also has the most comprehensive platypus exhibit, being the home of the first platypus ever bred in captivity.
Melbourne Aquarium
Let your kids explore the wonders of the marine world at the Melbourne Aquarium, home to over 10,000 ocean creatures including sea horses and sea dragons. They can or get among the sea animals without getting wet – by traveling through rock pools, billabongs, and a transparent tunnel surrounded by stingrays, sharks, and sea turtles.
Zoos Victoria is the world's leading zoo-based conservation organisation. It offers great experiences at three great zoos in Victoria (Melbourne Zoo, Healesville Sanctuary, and Werribee Open Range Zoo) with fun and exciting kids activities and school holiday programs running throughout the year. Admission in these zoos is free for kids under 16 years old during weekends, Victorian public holidays, and Victorian school holidays.
Still not sure what to do in Melbourne aside from visiting the zoos? You can visit our ActiveActivities Directory to find out what's on in Melbourne. The city offers many kids activities, making sure that your kids will never get bored. Other educational and interesting places you can visit with them include Melbourne museums. There they will learn more about the history and culture of Victoria and Australia. They will also definitely have fun in parks, gardens, and beaches!
Articles related to your search: