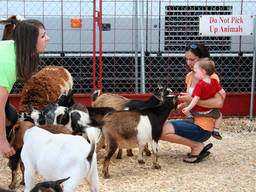 Kindy zoos were established when zoo keepers felt the need to make zoos more fun for toddlers and small children. Kindy zoos are popular in Australia because of the wildlife available for kindy zoos, like joeys. The huge patch of land available in Australia is also suitable for raising domesticated animals, whose young offspring can make great attractions for kindy zoos. Get your kids to learn more about animals by inviting them to kindy zoos!
Category: Venues, education and entertainment
Approximate age to start Kindy Zoos: 3
Approximate price: $400-$500 for hire; $22-$40 visits
This activity comprises of: petting animals, viewing animals, animal shows
Best period of the year: Year-Round
A video of Kindy zoos for kids
Lone Pine Sanctuary has a kindy zoo where baby animals can be fed and cuddled with.
Information on Kindy Zoos for kids
Are Kindy Zoos for Your Kids?
Australia has one of the most preserved and diverse wildlife in the world! Why not take advantage of it by taking your little ones to kindy zoos? Unlike regular zoos, animals in kindy zoos are younger and smaller and are generally comfortable with being handled.Kindy zoos offer plenty of kids activities that let your children interact with small domesticated animals or young wild animals. Some of these activities could include:
Bottle feeding baby lambs
Cuddling rabbits, ducks and piglets
Pony riding
Animal shows
Kangaroo feeding
These activities could benefit your children in the following ways:
Help Kids Be More In Touch With Nature
Living in a city or in the suburbs limits the amount of interaction children get with nature. By going to Kindy zoos for kids or by hiring mobile farms they can find connection with other animals.
Education
Kindy zoos for kids help raise their awareness as to how local livestock and native wild animals are born and raised.
Fun Party Attractions
Tired of boring birthday parties with the usual attractions? Animal theme activities for children can make parties more unique and exciting! These zoo preschool activities could include zoo kids crafts and zoo games.
Plan Your Visit to Kindy Zoos!
Kindy zoos offer a wide range of Activities for kids that can be suitable for both toddlers to older children. Be sure to supervise small children, though, because they can do things that might harm animals. For kindergarten age children, it's great to watch animal shows like Taronga Zoo's Tiger Cub Animal Show.
There are also many kindy zoos in Australia that are available for hire. Want a zoo birthday theme for your party? For two hours, they can be hired for around $400-$500. Check the ActiveActivities directory for more information on kindy zoos for kids
For the best Aussie animal adventure experience, make sure you prepare beforehand. Check online for the dates that kindy zoos for kids are open. Most are open all year round though some are closed for holidays so be sure to know beforehand. Also check the weather because it will not be fun to be outdoors when it's raining or snowing. Remember to bring plenty of sunscreen and mosquito repellent since you can expect to stay outdoors all day. Most facilities won't allow you to bring food or water, but there are usually stores inside kindy zoos.
Cuddle with our cute and furry friends now!
Articles related to your search: