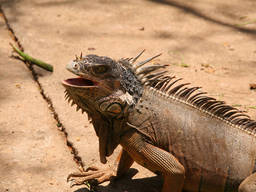 Your child can get up close and personal with their favourite scaly creatures!
Reptile parks are buildings or open areas which house reptiles for the public to look at and learn about. Very popular with crocodile and snake loving kids and adults alike, a reptile park can be a fun and educational experience for the whole family!
A video of Reptile Park for Kids
Official The first ever Executive Sleep out, Slither and Slumber was held at the Australian Reptile Park last Friday night. 60 Central Coast business executives slept out under the stars in sleeping bags to experience a taste of what homeless people go through every night.
Information on Reptile Park for Kids
Are reptile parks for your kid(s)?
Do your kids love all things scaly? If they like snakes, lizards and alligators, they will probably love the chance to go and see their favourite reptiles at a reptile park. Reptile parks for kids are very popular in Australia and give kids the chance to observe and learn about a wide variety of species. Reptile parks are a great day out for a number of reasons:
Educational – they give kids a chance to learn about reptiles
Interesting – a lot of reptile parks house creatures that most kids would not see on a regular basis
Exciting – watching a crocodile snap up lunch or seeing a poisonous snake can give kids a real thrill
Many reptile parks offer hands on kids activities including reptile feeding and the chance to hold and pat the exhibits. Check for activity times when you go so your child doesn't miss out on the opportunity. Very young kids might get a bit scared by the larger reptiles and if you child has a snake or lizard phobia a reptile park might not be the best option for them!
Many reptile parks have cafes and kids' play areas so if your child gets bored looking at the animals on display, there should be plenty to keep them entertained!
Get your kids to a reptile park!
A quick check on our ActiveActivities Directory will help you locate your nearest reptile park. There are reptile parks situated all around Australia so wherever you are there will probably be one near you. Reptile parks are generally fairly low cost but entry costs vary depending on the size of the park and the range of exhibits – you can generally expect to pay $10-$30 for entry. Ask about student and family discounts.
No reptile park in your area? How about trying another nature based activity for kids like a wildlife park or zoo? Most zoos have a reptile house where kids can see a few snakes and lizards and possibly even a crocodile or two!
Articles related to your search: