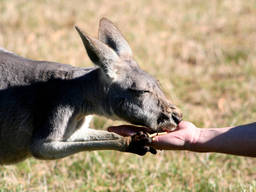 Wildlife Parks are a fun family activity.
Your kids can get up close and personal with their favourite animals at a wildlife park!
A wildlife park is an area of land, often part of a nature reserve, where native or more exotic animals can roam freely and be observed by visitors. There are numerous wildlife parks all around Australia and visiting a wildlife park can be a great outdoor adventure for the whole family!
A video of Wildlife Park for Kids
A family having a great time at an AustralianWildlife Park.
Information on Wildlife Park for Kids
Are wildlife parks for your kid(s)?
Do your kids love animals? If they enjoy being outdoors and love learning about nature and conservation, they might love a trip to a wildlife park. Australian wildlife parks, or wildlife centres are often run as part of wider rehabilitation or conservation programmes and allow visitors to observe and learn about a variety of different native and imported species of wildlife.
They are great places to visit for many reasons:
They give kids a chance to learn about and experience birds and animals in their native environment
They are a great way to support rehabilitation programmes for plants and rescued wildlife. Some are affiliated with conservation organisations such as the WWF
They can be fun and interesting as well as educational
Often wildlife parks host other activities for kids including theme parks, educational activities and adventure playgrounds
Some wildlife parks offer camping facilities which can be great for a peaceful family holiday
With so much to see and do at a wildlife park, your kids should enjoy the experience no matter what their age or interests! Wildlife parks are different from zoos in that the animals are usually roaming free under the protection of local authorities.
Are you thinking of heading to your closest wildlife park?
Don't forget to check the weather! Wildlife parks are usually outdoors, so dress accordingly and take plenty of sunscreen and a hat. You might want to take a picnic but check what the rules are about bringing food into the park and make sure you don't feed the animals and don't leave any rubbish before leaving, as the animals may eat it and become ill! "Remember take nothing but memories, and leave nothing but footprints."
Get your kids to a wildlife park during the next break!
Are you looking for an affordable day out for your kids?
Wildlife parks generally cost between $10-$25 for admission and kids activities such as camping and tours may be extra. Many wildlife parks are located just outside city centres for easy access by public transport and road. Most are open all year round and are staffed by a combination of rangers and volunteers. Check out our ActiveActivities Directory for wildlife parks wherever you plan to go!
No wildlife park in your area? Other nature based activities your kids might enjoy include hiking, camping and angling in a national park or even in non-protected areas. You may still discover a wild animal or two along the way!
Articles related to your search: