Top 5 Chinese cultural experiences for kids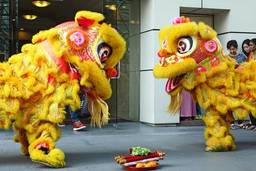 Sydney is packed with many interesting and diverse cultural activities for kids who are curious to learn more about the Chinese culture.

Below is five major events or venues that offer Chinese cultural experiences for children:

1. Lunar Lanterns at Circular Quay

The Spring Festival is the biggest, most important celebration of the Chinese festivals, also known as the Chinese New Year Festival. And this year, it falls on 16 February 2018, the Year of the Dog.
Once again, the City of Sydney will exhibit the twelve zodiac lunar lanterns from 16 February-4 March, each representing a zodiac animal. Kids can explore these Lunar Lanterns at Circular Quay and learn what twelve animals make the Chinese zodiac signs.
2. China Fun Lunar Carnival at Burwood Park
During the Lunar Festival period, there will be an all-day community entertainment ranging from calligraphy demonstrations, martial arts, 100 food stalls, and various traditional performances. You may have a lucky encounter with the God of Wealth in the crowd.
3. Lunar New Year at Luna Park
Enjoy the rides and some more at Luna Park as from 16-18 February this year, there will be special lion dance performances, firecracker shows, and special treats to welcome the Lunar New Year.
4. Chinese Zodiac Adventure at Chinese Garden of Friendship
Kids can participate in the Chinese zodiac adventure available daily at Chinese Garden of Friendship by seeking out all twelve zodiac icons hidden in the garden, while learning more about each zodiac. The Chinese Garden of Friendship also hosts various cultural activities for kids, such as learning how to dress in traditional Chinese costumes, and making of the Great Wall by decorating their own cardboard bricks.
5. Moon Festival at Market City
The Moon Festival is the second largest Chinese festival after the Lunar New Year Festival. Chinese people celebrate this event by eating mooncakes. Somewhere in late September to early October, there will be mooncake stalls at the Centre Court. There will also be traditional performances in Market City (Chinatown) to celebrate the event.
For more information about Chinese cultural events in Sydney, please contact the expert contributor.
Articles related to your search: