All about children's foreign language contests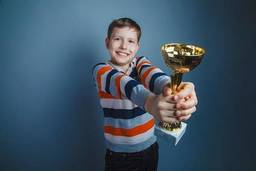 The benefit of learning a foreign language is not just about gaining knowledge of another culture.

Children who learn a foreign language can enjoy their new skills in various ways - such as participating in language contests which will give them the opportunities to win attractive prizes, gain unique experiences, and even experience overseas travel. What a great reward!

This is a list of all the major foreign language contests held in Australia.
1. Linguafest Short Film Competition
The competition is organised by Modern Language Teachers Association of New South Wales and is open to students in year 5 to 10. Contestants get to utilize not only their language skills, but also their film making skills.
To enter, contestants are to submit a short film on a specific theme and use the target language they are studying. Winners from each category will be awarded a prize of $300. Entries close in September and films will be screened in November.
2. Language Perfect World Championships
This is an online ten-day contest that requires contestants to correctly translate vocabularies of a target language into English.
Contestants are not required to be already learning the target language and hence the contest is suitable for language learners of all levels.
Contestants can choose their target language out of 14 selections. They can log in as many times as they like throughout the duration of the championships to earn points.
Last year's top student award went to a student from Queensland who had Japanese as the target language. There is a $30,000 prize pool especially for the Language Perfect World Championships
3. Japanese Language Speech Contest
This contest is held annually in all states and is open to high school students and university students. What contestants need to do is to present a speech for about three minutes on a topic of their own choice.
Winners from each state will progress to the national finals held in October in Sydney.
Last year's high school senior division winners went to students from Auckland, Brisbane, and Perth, who presented subjects on travel, family and community, and Japanese pastry.
The first prize winner is awarded a return air ticket to Japan with Japan Airlines.
4. National Australia Indonesia Language Awards
This annual competition is open to all Indonesian learners from children to adults. Contestants are not required to be studying Indonesian formally to be eligible to enter.
There are nine categories of entries from primary school students to anyone who is a citizen or a permanent resident of Australia. Eight of the categories are restricted to second language learners.
The first round of competition requires contestants to send a video of a speech in Indonesian for about three to five minutes, followed by a phone interview.
Contestants can choose one of the predetermined topics in each category.
Winners receive a prize that ranges from $300 for primary school category to $2000 for tertiary student category.
5. Chinese Bridge
This is an international competition held annually for secondary and university students who are second language learners of Chinese. This contest has attracted more than six hundred contestants from over fifty countries.
There are two parts to this competition:
The first part requires the contestants to deliver a speech on a selected topic in Chinese for a few minutes;
The second part requires the contestants to showcase a talent performance for a few minutes.
Contestants who succeed at the Australian level will then be flown to China to compete for the global final and the winners will have the opportunities to perform on national Chinese television.
For more information about the different language competitions and or if you're interested in learning to speak Japanese or Mandarin, please contact the expert contributor.