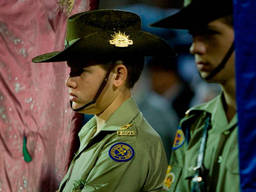 Is your kid a budding leader? Then he might be interested in becoming a youth cadet!
A cadet is a trainee to become a volunteer military officer. Cadet trainees learn about military life, physical and mental skills, drills and ceremonies, and proper military etiquette. Cadet training does not require trainees to pursue a military career; but it provides them with skills to become efficient leaders and better citizens.
A cadet in Australia is a kid aged 13 to 20 who is a member of the Australian Defence Force Cadets (ADFC), a community-based, volunteer youth organisation funded by the government. It is composed of the Australian Army Cadets, Australian Navy Cadets, and Australian Air Force Cadets. The ADFC has 22,000 cadets across Australia. There are school-based cadet units or cadet schools funded not by the government but by the school including The King?s School and the Newington College Cadet Unit, the longest running cadet corps in Australia.
A video of Cadets For Kids
Australian Air Force Cadets is part of the Australian Defence Force Cadets along with Australian Army Cadets and Australian Navvy Cadets. Kids who have an interest in aviation can join the Australian Air Force Cadets.
Information on Cadets For Kids
Is the Cadet for your kids?
The aim of the ADFC is:
The Australian Army Cadets is a youth organisation that trains members in military and adventurous activities. It has 237 units around Australia and its motto is "Courage, Initiative, and Teamwork." Their activities include:
Members of the Australian Army Cadets are each provided with a Disruptive Pattern Combat Uniform, cadet gear or field equipment, and a khaki hat. Every time they complete one of the required kids activities and other achievements, they are rewarded with badges and medals.
The Australian Navy Cadets on the other hand, trains the members, the sea cadets, in waterborne activities that include navigation, communications, first aid, drills, maritime history, firearms aptitude, and fun and adventurous training. The sea cadet uniform is based on that of the Royal Australian Navy.
Another part of the ADFC is the Australian Air Force Cadets. It equips a pilot cadet for community life by developing initiative, leadership, discipline, and loyalty. It aims to develop good character and good citizenship and educate the members about aviation. Pilot cadets participate in airborne activities, bush camps, rifle shooing, abseiling, and general service training camps.
Like other activities for kids, the cadet is a good way to for kids to get active, have fun and adventure, and at the same time learn life skills. Being a cadet makes every kid dependable, responsible, and disciplined. They will also get to learn necessary survival skills. It is also an opportunity for your kids to make friends and socialise. You are also ensured that every activity is safe and supervised.
Not all kids may be interested in being a cadet. Some parents may also be sensitive to some of the cadet activities. If you want your kids to join a youth organisation with the same objectives but less military-focused, you can browse our ActiveActivities Directory for more options and possibilities. There are other organisations like the Scouts and the Boys and Girls Brigade. It Is also advisable to contact your local Cadet Unit to find out more about the Cadets.
If your kid considers a career in the Defence Force, joining the Cadet is perfect for them. Let them experience military life; let them join the Army Cadets! Do they want to become pilots? Sign them up to become an Air Force Cadet! Or maybe they are aspiring deck cadets; they can go in their voyage of a lifetime with the Navy Cadets!
To develop an interest in the Army, Navy, and Air Corps and their traditions;
To encourage cadets to participate in community service;
To educate cadets in military knowledge and disciplines; and
To help develop leadership, self-discipline, self-reliance, and initiative.

Navigation
Ceremonial drill
Radio communication skills
Basic bush skills
Equipment maintenance
Participation in cadet bands and cadets drum corps
Rifle shooting with Army supervision.
Articles related to your search: