Boys Brigade for Kids in Perth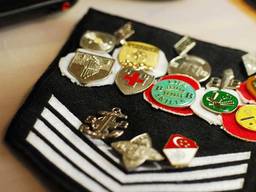 Boys Brigade awards and badges.
Boys Brigade is a Christian youth organisation that combines leadership training, drills, and fun activities for kids with Christian values. The first Boys Brigade formed in Australia was in 1895 at the Wesley Church in Perth, Western Australia. Boys Brigade was founded on two pillars: religion and discipline. The organisation aims to develop Christian manliness by using semi-military discipline, gymnastics, summer camps, and religious services. Create young leaders in your kids!
A video of Boys Brigade for Kids in Perth
The Boys Brigade helps create good leaders and followers among the members. Here are some highlights from the Boy Brigade leadership camp that took place in 2011.
Information on Boys Brigade for kids in Perth
Why joining the Boys Brigade for kids in Perth is a great activity for your kids?
The Boys Brigade for kids in Perth, WA focuses on training and developing boys into balanced people through physical, social, educational, and spiritual activities. The brigade also aims to lead them into a healthy life dedicated to God's service. The boys are trained to follow the footsteps of Christ in terms of serving the Church community and the society and becoming good leaders. The Boys Brigade provides fun, adventure, and inspiration.
The Boys Brigade offers mentoring programs for boys of all backgrounds, abilities, and interests. Boys Brigade is a training ministry for young men to think and live like Christ in our world, regardless of faith. The brigade aims to establish a firm foundation throughout a boy's life that's why its approach is to develop the boys for the long term ? training them for 13 years, from 5 to 18 years old.
Boys Brigade Australia has three age groups or sections:
Anchors - 5 to 7 years old
Juniors ? 8 to 11 years old
Seniors ? 12 to 18 years old
Seniors is divided into two subgroups: 12 to 14 year old kids in Alpha and 15 to 18 year old kids in Omega. Their ranks start from being a private, then lance corporal, to corporal, and the highest is sergeant. The ranks are awarded to the boys when they reach the minimum age requirement and reach the required standard of leadership.
Do you want your daughters to become Christian leaders too? Girls Brigade in Perth (and anywhere else in Australia) aims to help your daughter to become followers of Christ and to find enrichment through self-control, reverence, and a sense of responsibility. Girls from age 5 to 21 can join the Girls Brigade.
Get your kids to join Boys Brigade!
Browse our ActiveActivities Directory to find the nearest Boys Brigade centre in your community in Perth, as well as other tips and suggestions for fun activities for kids in Perth. Our ActiveActivities Directory has complete lists of available kids activities in Australia for all ages ? babies, toddlers, children, and teens.
Make sure your kids engage in activities that are both fun and worthwhile. Get them to participate in activities that will teach them important skills, concepts, and values so that they can contribute to the community even at an early age. The perfect way for them to learn and experience all of these activities is by joining youth organisations with a good cause. One perfect example is the Boys Brigade!
Articles related to your search: