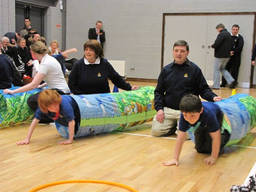 Let your kids serve the community while serving the Church by thinking and living like Christ!
Boys Brigade History - The Boys Brigade is a Christian youth organisation founded in 1883 by Sir William Alexander Smith. It was founded on two pillars of Religion and Discipline and is set up to develop Christian manliness by using semi-military discipline, gymnastics, summer camps, and religious services. The first Boys Brigade in Australia was formed in Melbourne in 1890. As of now, there are approximately 500,000 Boys Brigade members in 60 countries.
The Boys Brigade Object is "The promotion of habits of Obedience, Discipline, Self-Respect, and all that tends towards a true Christian manliness," and its motto is "Sure and Stedfast," derived from Hebrews 6:19 of the Bible: "Which hope we have as an anchor of the soul, both sure and stedfast?" it pursues to provide a meaningful and enjoyable program that will balance the educational, physical, social, and spiritual areas of the members' life. It aims lead them into a healthy life dedicated to God's service by leading a sound Christian lifestyle.
The logo before was just an anchor with the Boys Brigade motto and a capital 'B' on both sides. When it merged with the Boys Life Brigade in 1926, the red Greek cross was included in the logo just behind the anchor. The members of the organisation are called the Boys. Their uniform used to be just a rosette pinned on their everyday clothes, now they also wear a belt, haversack, and a pillbox cap (like a military cap). The Boys Brigade uniform in Australia includes a navy blue cap, shirt, and shorts, and a sky blue tie that can be bought from their shop once you register your kids.
A video of Boys Brigade For Kids
Here is a short video showing what the Boys Brigade is all about - the values they promote incorporated into fun and adventurous activities.
Information on Boys Brigade For Kids
Is Boys Brigade for your kids?
When your son reaches the age of 5, you can already let him join the Boys Brigade in your local Church. The brigade is of Christian foundation but it trains boys from all backgrounds, religions, abilities, and interests. They are also trained to follow the footsteps of Christ in terms of serving the community and becoming good leaders. It is all about anchoring a firm faith in all the Boys. It also aims for the Boys to have fun, be challenged, and experience adventure.
The Boys Brigade helps kids to attain growth in four aspects:
Educationally
The Boys will learn so many things that will not learn in school. They will gain wisdom from the words of the Lord and from the activities they participate in.
Physically
The organisation have activities for kids like camping, community service, sports, and other outdoor adventures that will keep them active even during school holidays like summer breaks. The activities will also help them strengthen their friendship with others.
Spiritually
Being of a Christian foundation, the Boys will learn Biblical truths that they can apply in their family, social, and Church life. It will also inspire them to share the Word to others and take part in Sunday School and other Church activities.
Socially
Being in the Boys Brigade allows your son to interact with other boys perhaps coming from different backgrounds, beliefs, and social status. It will teach them to accept one another as they are. It will also teach them to become efficient and helpful to the Church, the neighbourhood, and their family.
The Boys are divided into sections depending on their age. As they grow older and achieve milestones, they advance to the next level. Boys around 5 to 7 years old are called Anchors. When they reach 8 to 11 years old, they become Juniors, and then Seniors when they are 12 to 18 years old. The Seniors are further divided into two groups: Alpha for 12 to 14 year old Boys and Omega for 15 to 18. These sections ensure that your kids are developed into better citizens during their growing years.
The main award that the Boys Brigade gives is the Queen's Badge – it is given to those who have practised all the principles that the organisation promotes. Badges and special awards are rewarded for the kids activities that the Boys complete. Each of them is given an arm band where they can attach their awards and badges.
There is also the Girls Brigade for your daughters! It has almost the same principles and objectives – to make better citizens and leaders out of young ones and to serve and become followers of Christ. It promotes a just society where there is equality. Girls around the tage of 5 until 21 can join the Girls Brigade.
You can browse our ActiveActivities Directory for more youth organisations that your kids can join, as well as other tips about growing kids.
To become good leaders, your kids must also be good followers. Let them set a good example to other kids. Get them to join the Girls and Boys Brigade!
Articles related to your search: