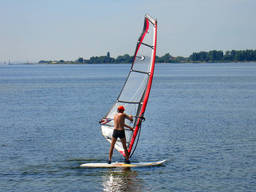 Keep cool in summer with this exciting water sport!
Windsurfing is a sport, which involves riding on top of water in the ocean or lakes on a board with sails. This fast-paced extreme sport is a fun activity for kids and adults alike!
A video of Windsurfing for Kids
Austalian kids windsurfing and having a lot of fun in the strong wind! The sooner they start the easier it will be for them in the future as it is a sport that requires a lot of training.
Information on Windsurfing for Kids
Is windsurfing for your kid(s)?
Do your kids love water sports?
If they like surfing, kayaking or other ocean based kids activities, they might love windsurfing. Windsurfing is exciting, a great form of exercise and a good way to build water confidence in kids. There are several variations of this sport: wave riding, speed and freestyle. But your children will first learn the basics and only then choose the one they like best.
Other benefits include:
Improves strength and fitness for kids
Teaches kids about different water conditions such as currents, tides and rips
Exciting and fast - great for adrenaline loving kids
Good chance for kids to make new friends
Teaches some skills that can be useful for other sports like sailing, including familiarity with controlling a sail in different wind orientation and weather conditions
Do your children hate the water?
They probably won't enjoy windsurfing! For kids who enjoy being on the ocean and are confident in water, windsurfing could be a great way to cool down in summer and participate in a sport. For safety reasons, supervision is always essential when they are windsurfing.
Kids can start windsurfing from age 5 depending on their level of confidence in the water. Starting in a calm and protected location such as a sheltered beach or lagoon is recommended before taking to the open water!
Get your kids to start windsurfing at the next school holidays!
Not sure how to get your kids started?
There are a number of ways for kids to learn windsurfing from private lessons to summer windsurfing camps. Check out our ActiveActivities Directory to find the closest windsurfing school! Windsurfing is not the cheapest sport - private lessons generally start at around $120 an hour with a qualified instructor or your child can enrol in a course of lessons which will probably cost around $400 - $500 for half a term. All gear including board, wetsuit and flotation jackets are included or they will be available for rental or to buy.
Windsurfing is mostly a summer sport and takes place in coastal areas or inland lakes.
Some popular windsurfing spots include:
Perth Area (Lancelin (waves), Geraldton (waves) and on the Swan River (flat water))
Sydney Area (Botany Bay (Flat water), Northern Beaches (waves), Gerroa (waves))
Melbourne Area (St Kilda (Flat water), Torquay (Waves))
Windsurfing is both a fun leisure kids' activity and a competitive sport with famous stars like Australian Jason Polakow (from Torquay) achieving world renown and who created the windsurf brand JP - Australia (JP standing for his own name). Whether your child is competitive or just wants to learn to windsurf for fun, this water sport can provide them with an exciting, adrenaline packed experience!