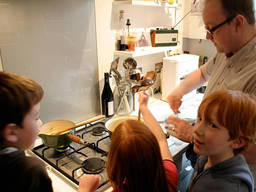 Cooking can be a great bonding time with your kids.
Develop your kid?s artistic prowess through cooking!
Kids love playing pretend. They like imitating adults around them: wearing their parents? shoes and accessories, pretending to talk to someone on the phone, and playing tea party with their dolls and toy cooking utensils. How about you let them experience cooking in your real kitchen? Unleash the chef in every kid by letting them have fun in the kitchen.
A video of Cooking For Kids
It is important for kids to know the proper way to hold the knife to avoid accidents in the kitchen.
Information on Cooking For Kids
Is cooking for your kids?
It might be a little messy to allow your kids to join in the cooking, but it?s all worth it! Teach them kids activities like cooking and they will learn more than preparing delicious food!
Nutrition
Encouraging your kids to eat a healthy diet will be more effective if they cook their own meal. Teach them simple recipes that have healthy ingredients. Cooking with them is also a great time to familiarize them with different kinds of fruits and vegetables.
Confidence
Accomplishing a task, learning a new skill, and being good at something will boost your kid?s self-confidence. Letting them explore and learn might inspire them to develop a passion for cooking.
Family Bonding
Leisure time is seldom as parents are often busy with work while the kids are busy with school. Cooking with your kids is a fun way to spend time together. It is also a way of keeping them active as well as productive.
Life Skills
Learning how to cook will be a great help to your kids especially when they are on their own. They will feel more independent when they can do things on their own. It will also help them become more responsible as they can now contribute to the family.
Creativity and Imagination
Cooking is also a form of art where kids can express themselves. The kitchen is also a nice place for kids to practise their creativity and imagination by letting them decorate their cupcakes and other easy recipes for kids.
Academic Skills
Cooking will also help reinforce preschool activities and subjects such as science, math, and language. In cooking kids will learn math by measuring ingredients, language by reading food labels, and science by discovering the food groups and by using their five senses. They will also learn motor skills like chopping, mixing, and rolling.
Cultural Awareness
Introducing them to ethnic dishes is a way to develop cultural awareness. Australia has a rich and diverse culture and an interesting cuisine that goes with it. You can teach them Australian dessert recipes like puftaloons.
Cooking might be hazardous for kids if not supervised. Teach them the proper safety precautions so that their kitchen experience will be fun and successful. Here are some cooking activities recommended according to your kid?s age.
Kids 1 to 4 years old can do simple things like peeling and mashing, and also shaking and spreading. They can also mix with their hands and wash the ingredients. Starting 5 years old, they can now help in setting the table. At 8, they can already read recipes, crack the eggs, and invent their own recipe. They can also help in washing the dishes, cutting ingredients, using the electric mixer, or operating a can opener ? all with adult supervision. It is advisable to let kids use plastic knives or bread knives which are safer.
So how do you get started? You can first buy them toys like kitchen for kids. If you see that they enjoy playing with it, then they might also be interested in actual cooking. Buy them kids cookbook that contains kitchen ideas for kids and simple recipes like cupcakes, birthday cakes, and other kids party food. Who knows, they might want to take cooking seriously. In that case, you can enrol them to kids cooking schools where there will be fun activities for kids like decorating kids cakes and inventing their own recipes. Most cooking classes accept kids aged 2 to 15. You can browse our ActiveActivities Directory for more tips on cooking for kids and other activities.
Encourage your kids to express their artistic potential in the kitchen. Get them to start cooking!
Articles related to your search: