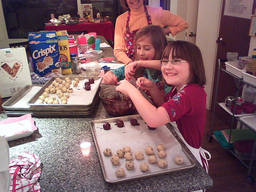 Look at the smiles on their faces!
Looking for ways for your kids to have an enjoyable and productive school holidays? Enrol them into some cooking classes!
Do your kids like playing with their kitchen sets? Do they like experimenting, like creating pies out of clay or salads out of leaves? Then maybe it's time for them to attend kids cooking classes. Teaching your kids how to cook is part of growing up. We let them help in the kitchen by doing simple chores like pouring and mixing the ingredients, setting up the table. If they start showing enthusiasm for the activity, they may also be ready to start taking it seriously and learn more than just the basics of cooking. Let them learn with other kids in a fun and friendly environment!
Australia is known for barbecues and beer, but it is also a fusion of the culinary arts. There are many school cooking classes offered all over the country. A kid's world is filled with playing. Play can be incorporated in many educational activities for kids so they can play and learn at the same time. An example would be cooking. Cooking can encourage children to have a healthy diet. They will be keen to eat nutritious food if they are the ones preparing them. Cooking classes will not only teach your kids cooking skills but also important facts like the benefits of good nutrition.
A video of Cooking Classes For Kids
Kids cooking classes encourage kids to eat healthy food. Here is a video of a kids in a cooking class learning how to prepare a healthy and delicious Rainbow Couscous Salad.
Information on Cooking Classes for Kids
Are cooking classes for your kids?
Shows like Junior MasterChef and movies like Ratatouille get kids even more excited to be in the kitchen. Cooking is fun, creative and practical. Worthy activities like cooking help train kids for the future. It develops a good hobby and also provides short-term and long-term benefits that are very useful in many aspects of their lives.
Basic math, science, and reading
Cooking helps improve some skills that can be used in school. It involves math (measuring, sorting and separating, sequencing, and counting), science (physical and chemical change, textures, mixing ingredients, and the use of the five senses), and reading (reading labels and the recipe book).
Safety and hygiene
In cooking school, they cover topics such as kitchen safety and hygiene. The kids will be taught the different kinds of utensils and how to use them properly. The most important safety measures that kids will learn are the proper handling and use of knives, and the use of the oven stove, and gas range. They also focus on teaching kids how to keep the kitchen clean after working and the right way to wash their hands.
Self-confidence
Learning a skill that can contribute to the family will increase their self-confidence. Cooking on their own will give them a sense of achievement and responsibility.
Creativity
Cooking is also an art. Kids can express themselves creatively through simple recipes for kids like decorating cakes and cookies, creating a cupcake, and presenting meals creatively.
Independence
Cooking is a skill that they can use for life. Knowing how to cook will make them independent - very useful when they grow up and have to live apart from their parents.
Fine motor skills
Some cooking skills will help develop their motor skills. Such activities are chopping, whisking, stirring, pouring, cutting, and rolling a pin.
Healthy habits
Cooking classes discuss the importance of healthy eating to kids that they will remember and practise for the rest of their lives.
Social skills
Cooking classes enable your kid to interact and socialise with other kids. They will learn to work together and also learn the concepts of sharing and task distribution.
If you are thinking of enrolling your kids in cooking classes, here are some things to remember. Consider the safety of the location and safety in class. Ask about their sanitation protocol and kitchen safety before enrolling your kids. Make sure that every activity is supervised by an adult all the time. Some cooking classes allow parents to stay and watch their kids while doing the activities.
Aside from cooking schools, groceries, communities, and some businesses offer special programs for kids, including kids cooking classes. Some adult cooking schools also offer programs for kids. Cooking courses are often divided into age groups. Beginner classes are for kids aged 4 to 6, intermediate classes for ages 7 to 12, and advanced classes for kids aged 13 to 19. There are also specialised courses to choose from like courses specialising in dessert, in food from different cultures, and cake-decorating.
If your kids are already attending or have attended cooking classes, it's time to practise what they have learned! Allow them to prepare simple recipes like desserts or an Australian Meat Pie for their lunch at school. Let them cook for their own party! Some of the most fun and unique birthday party ideas are kids cooking parties. Having a cook-off is a way for your kids to apply what they have learned from cooking school; now they can also do it with their friends!
Visit our ActiveActivities Directory for more tips on cooking and other kids activities.
Encourage healthy eating and creativity with your kids by getting them to join cooking classes!
Articles related to your search: