Preschool Sports For Kids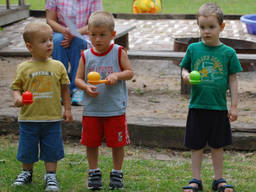 Encourage your kids to participate in physical activities like preschool sports!
Kids are naturally active and energetic especially during their preschool years (2-6 years old). As a parent, you may want to make sure that your kid?s energy is dedicated to activities that will benefit them. According to National Association for Sport and Physical Education, preschoolers should have at least an hour each dedicated to structured and unstructured physical activities for kids and no more than an hour dedicated to sedentary activities, sleeping not included. Enrol them to preschool classes that include preschool sports and preschool games in their lesson plans so that they would have a fun learning environment.
Sports programs teach sports to kids in a social and non-competitive way. It means that they will be introduced to common sports in Australia such as preschool soccer, basketball, and volleyball. They will get to participate in actual sports games but without scoring and everybody wins. The purpose of these programs is to teach kids basic sports exercises that will help develop their motor skills.
A video of Preschool Sports For Kids
Preschoolers doing some gymnastics in their sports class. They do some tumbling on padded floor with the supervision of their teacher.
Information on Preschool Sports For Kids
Are preschool sports for your kids?
Aside from physical benefits like the development of their motor skills, correct posture, and coordination, kids engaging to preschool sports receive many benefits that are helpful not only in playing sports, but also every aspect of their life.
Physical Fitness
It is important to start developing a healthy habit in your kids at an early age. Keep them healthy and active by engaging to fun physical activities like games and sports.
Life Skills
Aside from basic sports skills and the development of motor skills, kids are also taught the value of sportsmanship, teamwork, leadership, following rules, and cooperation.
Confidence
Self-confidence is one of the most important things that a child must develop. Learning a new skill or talent and eventually excelling will make kids feel more confident.
School Readiness
Kids will also learn skills like concentration and listening, and concepts of colours, shapes and numbers that are important in their academic life. Studies also show that kids who are physically healthy are also emotionally and mentally healthy.
Choosing the right preschool sports for your kids? Don?t hesitate to let your kids try every preschool sports. That way they can identify the sport that suits their interests and abilities. But there are factors you need to consider in choosing the best sport for them. Some sports programs accept kids as young as 2 years old, while the others accommodate kids at least 5 years old. Team sports are advisable to kids 8 years and older. For kids in kindergarten, it might be better to teach them first the concept of following directions and the value of teamwork. Individual sports like swimming and gymnastics are also great for preschoolers.
It is also important to consider your kid?s interest. For kids who are not into sports, you can still keep them active by letting them play around your house or at the playground. Play tag with them or teach them how to ride a bicycle. Playing with them is a nice way to experience some quality bonding time together. You can browse our ActiveActivities Directory for more tips on sports and other ActiveActivities Directory .
Preschool sports programs are worth their time and your money when you sign them up. Your kids will receive the full attention and support they need, they will also have fun while learning. Let your kids explore and try new things. Encourage them to try out preschool sports!
Articles related to your search: