Sea Kayaking For Kids In Sydney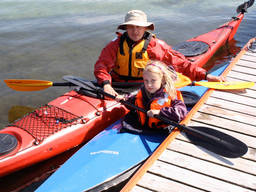 Enjoy a relaxing paddle around Sydney's scenic shores with sea kayaking in Sydney!
Sea kayaking is a type of rowing in a small canoe called a kayak. Popular with locals and tourists alike, sea kayaking is a great way to enjoy the beautiful Sydney coastline and get some exercise at the same time!
A video of Sea Kayaking For Kids In Sydney
What better way to spend the summer and enjoy the Sydney waters with your kids than by kayak? Here is a video with some tips on how to kayak with kids. Keep your kids happy and safe on the water!
Information On Sea Kayaking For Kids In Sydney
Is sea kayaking in Sydney for your kid(s)?
Do your kids love getting out on the water? If they enjoy paddling around or if they just want to try something different they might enjoy sea kayaking in Sydney. Sydney harbour has some great kayaking spots, particularly around Rose Bay and Manly.
Are you looking for healthy activities for kids that the whole family can enjoy? Sea kayaking in Sydney might be perfect. Benefits include:
An abundance of great kayaking spots to choose from - your child will never get bored!
Can help with upper body strength, flexibility and general fitness
With the availability of two seater kayaks, sea kayaking in Sydney can be a great way to spend time with your kids
Sea kayaking in Sydney is generally a fairly affordable activity, compared to other forms of water sports.
Adventure - go for a picnic trip to a remote beach and enjoy a special time with your family, all alone!
Sea kayaking in Sydney is great for kids aged 6 and over. Safety is important in the water and lifejackets must be worn by all kids under 12 and are recommended for everyone.ÿ If your child is not a confident paddler, it is best to go out in a group with a qualified instructor and always be aware of weather conditions and tidal patterns that could be dangerous.
Is your child nervous in deep water? Sea kayaking in Sydney might not be for them! They might prefer more land based kids activities instead, or swimming lessons to build up their confidence before they take to the open water.
Get your kids to start sea kayaking in Sydney!
Although there are many costal parts of Australia where sea kayaking is popular, Sydney offers some of the most desirable sea kayaking spots. Do you want to join an organized tour or go off and do your own thing? To find your local sea kayak hire in Sydney, or to investigate sea kayaking tours, why not check out our ActiveActivities Directory for ideas?
Sea kayaking in Sydney is generally fairly affordable with kayak hire at around $20 - $40 an hour. Why not take your kids on an adventure this weekend and go sea kayaking in Sydney!
Articles related to your search: