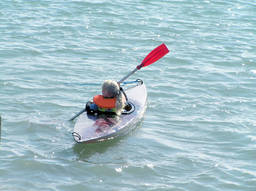 Glide through the water with this relaxing kids' activity!
Kayaking is a popular water sport which involves paddling a small boat, or kayak in the ocean, a lake or a river. It's a great family activity with a range of options, including white water kayaking, or even kayak fishing!
A video of Kayaking for Kids
Fresh water kayaking is an extreme sports, but can be learned very young. Mke sure the club has well trained teachers and your kid will just love it.
Information on Kayaking for Kids
Is kayaking for your kid(s)?
Do your kids love the water?
If they like adventure and are old enough to hold a paddle, they might love kayaking. Kayaking is a versatile outdoor sport which is easy to learn and suitable for ages 6 and above, depending on your child's level of confidence in the water.
Some of the great things about kayaking are:
It's a great form of exercise
It's relaxing and peaceful and a great way to tour an area and reach beaches that are inaccessible by land
It's easy to learn – once you have the hang of kayaking you can do it wherever there are places to hire kayaks
It's a great activity for the whole family to do together
It offers a number of options, from competitive kayaking races, sea kayaking for fun, river kayaking, sailing kayaking and scenic kayak tours.
Not sure if it's safe? It's recommended that children go in a 2 seater kayak with an adult and wear a lifejacket and helmet. In colder water, a wetsuit is highly advisable. All safety equipment can be rented along with the kayak, although if your child gets seriously into kayaking you might want to consider buying a good quality helmet and wetsuit. It is important to check weather conditions and tidal patterns before setting off on a kayak trip and you'll be able to enjoy this amazing kids' activity.
Get your kids to start kayaking at the next holidays!
Are you planning a camping holiday? Or visiting a few national parks?
No matter what your holiday plans are, if there is water nearby there will probably be a chance to try kayaking. As well as hiring a kayak and equipment and taking to the open water, you can buy your own inflatable kayak which you can take anywhere you like!
Depending on what type of kayaking activity you are planning to do, your kayak will have different shapes. For ocean/open water kayaking, it will be longer and thinner (and less stable) to cut through the waves. It is the fastest kayak of all.
For fresh water kayaking, a more stable and therefore wider kayak will be needed. Much heavier, but shorter to be able to go between the rocks, it is much slower.
Sit-on kayaks are pretty useful for open water rides, but be careful with sun burn on your legs!
Sit-in kayaks may be more comfortable though, but it is more complicated to get rid of the water that comes in.
Kayak hire generally costs around $40 an hour for a two-seater kayak. If you want a unique way to take in the local scenery, why not take the kids on a kayak tour? Prices vary depending on length, but you can generally expect to pay around $90 - $100 for a morning or afternoon's adventure with a guide.
Do your kids want to improve their skills?
Kayaking lessons and courses are a great way for them to do this and generally cost around $75 for a three hour lesson. Find your local kayaking clubs in our ActiveActivities Directory for a memorable adventure your kids will love!
Articles related to your search: