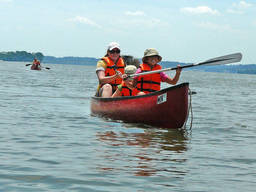 Make a splash on the open water and send your kids canoeing!
Canoeing is a popular activity, which involves paddling a small boat on a river, lake or sea. Originally designed as a mode of transportation, canoeing has become a recreational and sporting activity in many parts of the world, including Australia. Whether you are after a leisurely sea paddle or want to try white water rafting, canoeing can offer something for all the family!
A video of Canoeing for Kids
Learn about some great techniques for paddling your canoe from our expert in this free boating video on kayaking and canoeing for beginners.
Information on Canoeing for Kids
Is canoeing for your kid(s)?
Do your kids enjoy being on the water? If they are proficient swimmers and are confident in small boats, they might find canoeing fun. Canoeing for kids may have many benefits including:
Relaxation – paddling around on a calm ocean or lake can help soothe kids and de-stress them
Improved upper body strength – canoeing is a great workout for the arms and upper body
Increased flexibility and co-ordination
Improved balance – trying to sit on a wobbly boat and paddle can test anyone's sense of balance!
Great chance to make new friends
Canoeing and kayaking are often confused and although there are some differences between a kayak and a canoe, they are very similar and often indistinguishable, especially to a beginner. There are many different types of canoe including rowing canoes, wooden canoes, racing canoes and even inflatable canoes, which are great for fishing and camping trips.
Is your child nervous in the water? Canoeing might not be the best sport. He or she might prefer more land based kids activities such as a triathlon for kids or alternatively swimming lessons to help increase their confidence. Before you take, your kids canoeing make sure you have the right safety gear, particularly flotation devices and any emergency equipment you might need. Hats are essential for anyone who is going to be out on the water.
Get your kids to start canoeing!
Are you looking for canoeing lessons and activities for kids?. Check our ActiveActivities Directory for canoeing clubs, your local sailing school or kayaking club. Lessons can range in price from $20 - $120 an hour and equipment hire is usually extra. A cheaper alternative is to hire a canoe and have a paddle around with the kids. Two person canoes generally cost around $50 an hour to hire and can be a fun way to spend time with your kids and have a bit of an adventure! Make sure you take safety into consideration at all times and stick to sheltered areas until you and your child are confident!