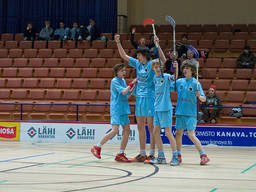 Champions in the making!
Indoor sports can be played all over Australia. There is a huge range of activities for kids on offer, the most popular being:
Netball
Indoor athletics
Indoor cricket
Futsal (or indoor soccer)
Volleyball
Squash
Badminton
Basketball
Indoor rock climbing
Your kids don't have to miss out when the weather is bad!
A video of Indoor Sports for Kids
Indoor cricket is one of the indoor sports that are really challenging and physically demanding. This fast paced sport will definitely entertain your children. Look at this professional indoor cricket final and you'll understand what it is all about.
Information on Indoor Sports for Kids
Are indoor sports for your kid(s)?
Are your kids fed up when they have to stay inside because it's too hot, too cold or too wet outside? We think that indoor sports might be something they would love. Whether they prefer team games or an individual activity like squash, indoor sports' benefits include:
A great way to keep active
Learning to work with others in team games and share resources
Indoor sports centres usually provide all the equipment for organised classes. If you book a private lesson, for example an indoor tennis lesson, you may need to provide your child with a racquet. Check with the venue or instructor
Indoor sports centres provide the chance to try all sorts of sports in a safe environment
All kids are likely to find something they can get involved in at an indoor sports centre. Many indoor sports venues and health & fitness centres are likely to have a kids' play area for toddlers as well, so there is no need for anyone to feel left out! Bigger kids can generally play indoor sports from age 5 upwards. kids activities and classes for smaller children include fun games based around a sport such as indoor soccer.
Other indoor sports ideas include games that can be played at home if you have sufficient covered space or a big lounge and you don't mind pushing furniture back against the walls for a while. These indoor sports include balloon football and indoor foot volleyball, which the kids can do in teams but lying on their backs and using their feet to kick a balloon to and fro.
Why not organise your next children's party around indoor activities for kids? Many indoor sports venues offer special party hire of courts including all equipment, party food and even an umpire if required!
Get your kids to start indoor sports!
Are your kids interested in indoor sports? A kids' party at an indoor sports centre can cost from $140 upwards plus food. Registration for individual sports is around $10 and there may be a "game fee" payable per team per week which can cost from around $49 per team. Many indoor sports team games are played at weekends as well as after school on weekdays. Check our ActiveActivities Directory for indoor sports centres! Indoor sports can help keep your kids active - give them a try next weekend!
Articles related to your search: