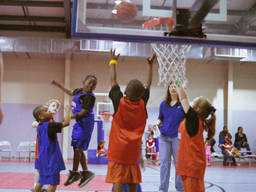 Among activities that kids can learn in a multisports camp is basketball, with a focus on teamwork and skill.
Make an all-around athlete in your kid!
A kid who plays multisports means that he practises and is good in more than one sport. The most common multisports is the triathlon which includes swimming, cycling, and running. Kids who like adventure sports might also enjoy multisports. Encourage an early start to an active lifestyle!
Multisports for kids are ideal for those who are just starting to get familiarised to athletics. It is also fit for kids who are sports addicts and also the ones who have yet to figure out the sport they will really love. In multisports clubs and camps, kids will receive coaching for at least 3 different sports. These camps also allow kids to exercise, have fun, and make new friends as the courses are incorporated with fun and educational themes..
A video of Multisports For Kids
Kids will enjoy multisport camps and programs because they will have get to play games and have fun while learning different kinds of sports. Some of the exciting sports included in a multiposrt club is football, basketball, cricket, and dance.
Information on Multisports For Kids
Are multisports for your kids?
Most parents try to enrol their kids to clubs specialising in a specific sport. It can turn out to be not worth all the fees paid when the kids end up uninterested in that particular sport. Enrolling them to a multisports camp can be more practical since they get to explore many sports at once. Sports, when taught properly, can help in a child?s development in many ways. Here are some benefits that your kids can get from a multisports camp:
Introduction to Sports
A multisports camp will introduce your kids to different kinds of sports. It can be the first step towards fitness and a passion for sports. Kids starting 3 years old can join multisports camps where they will be introduced to an active and healthy lifestyle. Most multisports programs offer a unified learning experience which engages their minds and their bodies.
Discover and Explore
By exploring different sports, your kids will eventually discover the sport that suits their abilities and their interests. By participating in all kinds of sports and games, they will realize what they prefer more: individual sports or team sports, contact sports or non-contact sports.
Develop Skills
Specialising in one sport tends to develop only a few skills in your kids. Participating in multiple sports and other kids activities will allow them to make use of all of their muscles. It will also teach them the value of sportsmanship, fair play, respect, and social interaction.
Refine Skills
At around 6 to 12 years old, your kids are ready to practise sports in a more competitive environment. Multisports centres facilitate multisports events that will help refine their skills in order for your kids to have sports as their second nature.
In choosing the right multisports program for your kids, you first need to consider which activities for kids they like to enjoy. Do they like swimming, riding the bicycle, and running? You can enrol them to triathlon programs. The only equipment they will need is multisport bikes and the proper outfit. Other sports that multisports clubs offer are common sports like soccer, basketball, gymnastics, cheerleading, and dance. Make sure that the program you?re choosing for your kids has the right mix of sports they are or might be interested in. it is also good to consider if the program has an activity that they haven?t tried yet. It is always nice to be able to experience something new.
For younger kids, it is advisable to enrol them to multisports programs that are play-based and are designed to develop gross motor skills and athletic skills. Gross motor skills are considered as the 5 Fingers of Sport: running, jumping, throwing, catching, and striking. Athletic skills include chasing, dodging, collecting, body manipulation and movement, and equipment manipulation.
It is also important to make sure that the camp has a safe, fun, friendly, and supportive environment, with coaching provided. For beginners, it might be better if they learn multisports in a non-competitive setting. For more tips about multisports Australia, you can browse our ActiveActivities Directory .
Encourage versatility! Get your kids to join a multisports camp!
Articles related to your search: