Articles related to your search:
Seven reasons to learn Taekwondo
Taekwondo is more than just a sport, it's a discipline for success in life. The relationship between student and a master at Wylie Taekwondo is a sacred one, with benefits reach-ing far beyond the four walls of the dojo. Most students will report it can infiltrate every area of your life. Here we have listed 7 key life benefits of choosing practice taekwondo.
Read more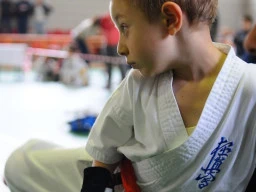 10 big mistakes people make when choosing a martial arts school
Ten mistakes that people often make when engaging a martial arts school can impact how you see the industry and easily be avoided. This article points out where you can easily make these mistakes and how you can do things differently to ensure your kid's experience of Mixed Martial Arts is enjoyable and safe.
Read more