Benefits of Rhee Tae Kwon Do for Children: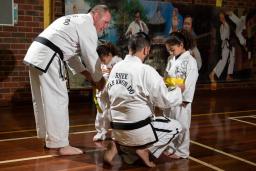 Rhee Tae Kwon Do keeps children active both physically and mentally. Improves their Situational Awareness, physical coordination and stimulates mental development.
Rhee Tae Kwon Do teaches children to show respect for their Instructors, Seniors, and Juniors in their class, as well as their parents, teachers, and all members of the community.
Rhee Tae Kwon Do training boosts children's Self-Esteem, improves their Self-Discipline and Self-Control and builds in them a strong sense of Self-Confidence and Personal Determination.
Rhee Tae Kwon Do helps children thrive in new and different social situations and environments, by introducing them to new friends with common positive pursuits, interests, and goals.
Rhee Tae Kwon Do provides children with milestones of achievement and goals to aim for, instilling in them a sense of Focus and Purpose.
Rhee Tae Kwon Do works with parents and family members to help their children have a strong foundation for future success regardless of their interests or pursuits.
Articles related to your search: