How to pick the correct martial arts school for your children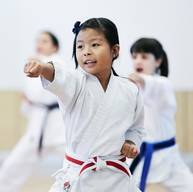 I was once told by a School Teacher that "Leisure should be pleasurable" and I always remembered that when I designed and taught my classes. I have been teaching karate to children and running my karate school for over 30 years and I know that most parents have absolutely no idea about martial arts.

They understand that it is a positive form of Self Discipline and it encourages an increase in self-confidence and fitness but they don't know how to tell the good from the bad. Hopefully the following will help you, as a parent, decide which would be the best and most suitable school of martial arts for your children.

Children have a shorter attention span than adults. Children's goals should be reachable. They learn in a different way and require more and constant recognition of their improvement. I am a firm believer that children and adults should be taught separately. I also believe that children's classes should be age based. Kids learn better, even in a mixed grade lesson, when they are with someone their own age.
Martial arts training for your children should be a positive experience, not a negative one.
Will my child be a bully?
A lot of parents are worried that their children will become aggressive and out of control, turning into school bullies. The most common question I hear is "will my son start hitting other kids?" This is why you should take your time, do your homework and find the right training for your children.
A good martial arts instructor will make sure the children learn personal discipline as well as the skills and techniques so there should never be a worry that, after attending a few classes, they will start using these new skills against other kids or family members.
Assess your child first
Before you start checking out the various martial arts schools, you need to think about your child:
Why do they want to start martial arts training?
How old are they?
What is their personality? Competitive? Quiet? Mature? Shy?
What do you expect from their training?
The answers to these questions will impact greatly on your ultimate choice of martial art school and the instructor.
Getting started - forewarned is forearmed….
Get a list of martial arts schools in your area
Call them or email them

Always direct your enquiries to the Principal or Chief Instructor
Four key questions to ask:
Do you teach children separately from adults?
I have a son/daughter who is (their age). What class would he/she be in and what day/time is that run?
Are we allowed to watch a class in action?
Do you offer a free trial lesson?
If the response to any of these questions is negative or the training day or time doesn't suit you, look elsewhere. You can always come back to this school if you find it the best one for your child.
FINDING THE BEST SCHOOL
First impressions
"Take a partner" or "Choose an opponent!"
How do you react to these statements? There is a big difference between the two. They are simple enough phrases but they can give you and instant indication to the whole philosophy of the school.
Your first impressions are important so take a look around and consider the following:
Is the hall clean and tidy?
Do the children seem happy?
Do you like the instructor?
Does the class move freely or is there a lot of stopping and starting?
Does the instructor deal with disruptions quickly and effectively?
What is the ratio of students to instructor?
Hidden fees
The instructor should be able to give you a list of fees which includes joining fee, membership fee, training fee, cost of equipment (if required), cost of the grading (if the school charges for them), and the annual insurance fee.
Be wary of hidden fees and always ask if the list you are given is the complete list of fees.
Signing a contract
It's amazing but true – some schools actually make you sign a contract when you join their school. A contract like this will tie you financially for a period of time. What do you do if your child doesn't like the training after a few weeks? Don't be swayed by the promise of a black belt in 12 months. If getting a black belt is that important, buy one. A fancy one will cost you $30.
See the point about hidden fees. Some schools charge less for class fees but then charge high fees for Competitions, which end up being compulsory. Kids have enough competition in their lives without having to do more.
What is taught?
Do you understand what will be taught? If you don't like the idea of floor grappling, full contact or heavy throws then look for a different style.
FINDING THE BEST INSTRUCTOR
What do you think about the instructor?
The instructor is the single most important factor when determining the right school for your child. There is no required accreditation programme for martial arts instruction so it is advisable to ask lots of questions. Don't be too impressed by lots of fancy certificates and diplomas – they can be downloaded and "edited" and a plain cotton black belt costs $15 at the martial arts supply store.
A good kids' instructor needs to have plenty of patience and should be both entertaining and in control of the group.
What is the grade of the Instructor?
Experience and ability is more important than the actual grade so it is better to know how long the instructor has been training and teaching.
Does the instructor belong to a bigger organisation?
That's a tough one. Some big organisations put a lot of restrictions on the instructor, setting standards that may not be attainable for his particular students and taking away the individuality of the instructor. Bigger is not always better. The best school has good instructors, happy students and is run professionally with good administration backing up the teaching. Admin is the backbone of everything so if you feel the person doing the administration (joining up procedures, invoicing, etc) is not very professional look for another school.
Hugely important. EVERY instructor must have a Working With Children check. Ask the Principal before joining the school.
IN SUMMARY
Go with your gut instincts
Ask lots of questions
Try before you buy
For more information about finding the best school or instructor for your children, please contact the expert contributor for this article.
Articles related to your search: