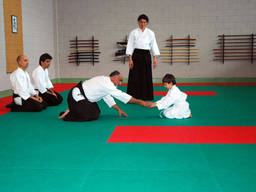 Aikido was created by Morihei Ueshiba, referred to by some aikido practitioners as sensei ("Great Teacher"). He envisioned aikido not only as the synthesis of his martial training, but as an expression of a personal philosophy of universal peace and reconciliation.Aikido has evolved from the Aiki that Ueshiba studied into a wide variety of expressions by martial artists throughout the world. Get your kids active, healthy, in shape and increase their stamina by enrolling them in Aikido associations!
Category:Sports
Approximate age to start Aikido:4 years old
Approximate price:Adult classes (15+ years) - $7.00 Children (8 to 14) - $5.00
Gear/equipment needed and approximate price range: BUTOKA SEIKA Aikido Uniform Set - $67, Bokuto - $14, Jo - $54, Shinai - $30
This activity comprises of: Competitions, Events, Aikido training, Aikido Summer camps
Best period of the year:Anytime
Most appropriate region:All locations
School holiday programs available:YES
A video of Aikido clubs for kids
Kids learning aikido in an aikido class
Information on aikido clubs for kids
Why is joining aikido clubs great for your kids?
Is aikido a suitable sport for my children? Among other kids activities, martial arts is one of the most helpful in terms of building your children's mental and physical health. Aikido is suited for people of all ages and genders since size, weight, age, and physical strength does not play a big role in this martial art. This means that your children, whether they are toddlers or adolescents, can enjoy this martial art along with their friends. With regards to safety and injuries, aikido can be very forgiving as they will not be tackling risky moves and aikido techniques in their aikido clubs if your children are toddlers. At a certain age, children can fully practice the moves during training sessions when they have pursued the sport in the long run. Here are the benefits that your children can acquire through aikido techniques taught in aikido clubs:
Social : what your children can learn from this is that aikido emphasizes safety, good manners and kindness. These traits will not only be applied inside the aikido clubs or aikido dojo, but they will also be applied outside in school or at home. It's one of the best kids activities to enhance your youngsters' social skills!
Focus : Focus and concentration is a big part of this martial art. The advantage of making your child learn and appreciate the beliefs of martial arts is that they will listen to you attentively.
Physical : martial arts training in general improves overall physical health apart from mental health. With aikido, you will notice the improvement in your children's flexibility, coordination, posture and balance.
Temperament : just like with any other self defence activity, aikido will help release aggression. One of the core values in aikido clubs is safety. They will be given tasks and activities that will teach them about self-improvement and discovery.
Get your kids to join aikido clubs!
Where and how do I begin? In Australia, there are many martial arts centres and aikido clubs that provide aikido classes. This will also give you access to specialised aikido coaches and instructors. If you need more information about these aikido organisations, you can check our ActiveActivities directory for more information on locations and aikido dojos.
When it comes to affordability, all your children need are a set of aikido uniforms. These uniforms come in all sizes and prices and are not hard to find. You can find them at any sports supply store or at your local aikido club or gym. Encourage your children to learn about this self-defence activity or you may never know if they are going to be skilled enough to be in aikido competitions in the future.
Let your kids learn the value of respect and good manners through one of the self-defence martial arts such as aikido!
Articles related to your search: