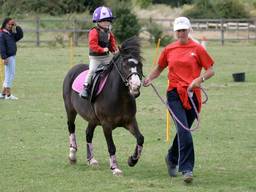 Horse riding is one of the popular recreational activities for kids in Australia since the 1800s. If your kids are into equestrian, then they most likely want to try gymkhana, which is an equestrian event focused on speed pattern racing and timed games. Most gymkhana events emphasize the participation of children that's why your little cowboys and cowgirls will surely have fun in the event. You can also join the event with the whole family!
Category: Sports
Approximate age to start Gymkhana: 6 years old
Approximate price: $110-$115
Gear/equipment needed and approximate price range: Gymkhana grooming kit ($20), Boots ($200), Helmet ($13 to $50), Crop ($8), Bat ($12), Spur ($25)
This activity comprises of : Barrel racing, pole bending, keyhole race, keg race, flag race
Best period of the year: Year round
School holiday programs available: YES
A video of Gymkhana for kids
Little girl and her pony run a barrel race.
Information on Gymkhana for kids
Is gymkhana for your kids?
Gymkhana is a timed obstacle racing for horse riders. In Australia, gymkhana is one of the most exciting family oriented equestrian sports, as the country consists of a vast countryside ideal for horse riding. Gymkhana for kids is one of the most fun kids activities today, especially for toddlers and children who like engaging to adventure activities.
Gymkhana consists of a series of events designed for competition between riders which bring into play the abilities of the rider and the speed and handiness of the horse. Riders are timed individually while racing through a pattern or competing in games on horseback. Riders are given penalties or disqualifications for touching, knocking over, or dropping objects. Gymkhana events include:
Barrel racing
Pole bending
Keyhole race
Keg race
Flag race
Gymkhana for kids can help your little ones enhance their physical vigour, as well as their level of emotional and mental maturity. This sport is also considered as therapeutic riding, which can be beneficial for children with disabilities like Autism and Down Syndrome.
Benefits of gymkhana in therapeutic riding:
Patterns and games help demonstrate the horse and rider's teamwork and precise control
Gymkhana works on focus and memory
Gymkhana lessons focus on balance through turns
It works on riding straight lines and turns
It works on bending and precision steering
It works on maintaining pace
It works on fine motor coordination
It works on competition skills, dealing with winning or losing, and good sportsmanship
Get your kids to join gymkhana!
Gymkhana clubs help kids develop precise, controlled actions, and tight teamwork between horse and rider at speed. Most clubs offer a variety of gymkhana classes to allow riders to compete at the speed level they are most capable of and comfortable with.
Before joining gymkhana events, it is recommended that your kids have proper training in equestrian. Kids at the age of four can start attend riding lessons, and are allowed to ride horses on their own and join competitions by the age of six.
Visit our ActiveActivities directory for a list of gymkhana lessons and gymkhana clubs around Australia. Pony clubs and saddle clubs also offer horse riding and gymkhana lessons. They also host gymkhana events. To make sure that your kids receive proper gymkhana training, it is important to make sure that you choose a professional and certified gymkhana coach.
Joining gymkhana events involve taking good care of your kids' horse or pony. Costing around $20, a gymkhana kids' grooming kit include:
Vinyl coated hoof pick
Body and dandy brushes
Mane comb
Sarvis curry comb
Sponge
Gymkhana is the action packed, precision sport of the equestrian world. Get your kids their own gymkhana shoes and grooming kit and take them to horse shows!