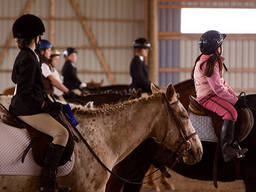 A group of girls prepared to take on the gymkhana challenge
Gymkhana clubs for kids is one of the most exciting sports clubs today. Focusing on Equestrianism, it teaches your children the art of horse riding which has been popular in many countries, including Australia since the 1800s. Unlike traditional horse riding, gymkhana clubs for kids help your children to become adept to skilful horse riding. Also known as pony club, gymkhana club for kids coaches your kids the most important lessons which can lead to the ropes of Australian Rodeo.
Category: Sports
Approximate age to start (name of activity):5
Approximate price: Average price of $300
Gear/equipment needed and approximate price range: all-purpose saddle ($350), boots ($80), cotton drill saddlecloth ($40), gymkhana membership ($300), gymkhana grooming kit ($19), helmet ($90) rope halter and lead set ($25),water bucket ($5)
This activity comprises of: coaching, training, gymkhana rules, gymkhana clubs for kids
Best period of the year: school holidays
Most appropriate region: Australia.
School holiday programs available: YES
A video of Gymkhana Clubs for kids
Watch the day to day activities of a gymkhana club for kids.
Information on Gymkhana clubs for kids
Are gymkhana clubs for your kids?
Looking for exciting activities for kids? Gymkhana clubs will help your children to become experts at traditional horse riding, and teach them the real art of horse riding that involves a set of skills which are inevitable in pony clubs or gymkhana clubs. Of course, the famous Australian Rodeo is a goal for most pony riders who dream to become like Alan Wood on the great bucking mare, Curio.
Coaching children the rudiments of gymkhana may be quite difficult. But, gymkhana clubs have experts who stay focused on efficiently training kids, and making gymkhana one of the best among all kids activities. Most gymkhana clubs already have a set of age-specific programs to ensure that the lessons for kids are appropriate. If you want your kids to have excellent posture, horse riding is probably one of the most effective ways of training the upper core. Although posture riding is for elite horse riders, allowing your kids to learn good posture while they are young is a great start!
Get your kids to join gymkhana clubs!
Team sports are one of the best ways to expose your children and to let them grow to their full potential, and gymkhana clubs may be just what your kids need. Kids playing random games and modern-day favorites, Wii and Xbox, can get their opportunity to become more self-disciplined and competitive as they learn how to be good team players. Gymkhana clubs for kids always suggest for children to have at least 6 to 8 private riding lessons from professional instructors and at least 40 riding hours "in the saddle." Coaches also suggest parents and guardians to supervise their kids even when they are under the care of coaches.
Since gymkhana is a physically demanding sport, toddlers may not be permitted to join gymkhana clubs, although they can be exposed to the basics of roping and horseback riding. You may also want to know that most gymkhana clubs are not only sports clubs, but health clubs as well.
What activities can you expect from gymkhana clubs? Since these activities will be conducted by professional coaches, you can expect activities, such as:
dressage
hackin
jumping
musical mats
balloon race
potato race
laundry stakes
stepping stones
fishing race
and walk, trot, run.
These games will also be age-specific and highly dependent on the skills of the rider and the pony or horse. All gymkhana clubs adhere to the same standards when it comes to the games.
Do you need some facts that your kids will learn in gymkhana clubs? Western saddle is the most common type of saddle used in gymkhana, and contrary to popular belief, the horn is not meant for hanging on to. Cowboys dawdle their ropes around it after restraining a calf. The cloverleaf pattern refers to the barrel racing. In this game, three barrels are arranged to form a triangle. The rider must make one right turn and two left turns or vice versa, then race back across the finish line. If one of the barrels fall, an additional seven seconds is added to your time.
If you want to learn more tricks and tips, check out ActiveActivities Directory to find gymkhana clubs for kids near you.
Get your kids their own gymkhana grooming kit for a full take on the equestrienne or cowboy-cowgirl challenge. Enrol your children to gymkhana clubs today!