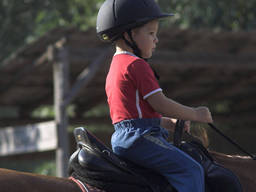 A kid learning how to ride a horse
Whether they just want to play at being a bushranger or dream of being the star attraction at the gymkhana, kids love horse riding! Horse riding is a popular sport in Australia that involves riding on a horse's back. This can be done for recreation or competitively with a number of different equestrian activities available including show jumping, dressage, rodeo and participating in horse shows.
Horse riding has been part of Australian culture since the pioneer days and Australia is home to some well known horse breeds. In many parts of the country horses are used to help workers on outback cattle stations round up livestock.
A video of Horse Riding for Kids
Watch how this little girl can ride her horse... Safely, having fun... a great activity for a kid!
Information on Horse Riding for Kids in Australia
Is Horse Riding for your kid(s)?
Horse riding is a great kids' activity and willl help your child develop confidence and make friends, as well as being a fantastic form of exercise. Looking after a horse also helps kids learn responsibility. Some additional benefits of horse riding can include:
Helps balance and coordination
Helps improve physical strength
Improves self esteem
Helps kids make new friends
Teaches responsibility through caring for an animal
Gets kids in touch with nature
Horse riding can be suitable for children aged around 6 and more and of all abilities.
Get your kid(s) started!
The best way to start your children horse riding is to enroll them in a course of horse riding lessons at a riding school. Horse riding schools or stables are usually located in country areas or on the outskirts of major towns or cities and qualified instructors provide training in all aspects of horse riding. Once your child has mastered the basics they'll be ready to go out on riding trails or participate in local horse games. If you end up buying a horse for your child, joining the local pony club is another option. But beforehand, you must understand that it is a highly demanding activity which requires a lot of attention and your kid needs to be really passionate on this. You should probably wait a few years until you're sure this is the main sport your child wishes to do for the next few years.
Depending on the size of your child, he or she will probably start riding a pony and then move on to full size horses once they are tall enough and skilled enough to control a bigger animal. All essential equipment such as bridles and saddles (horse tack) or rugs will be provided by the riding school and they usually supply hard riding hats for the rider, Hard riding hats are critical to your children's safety when riding horses. To get started, your child will need a pair of sturdy boots with a low heel and some comfortable leggings or soft pants. A riding crop isn't necessary for beginners.
Horse riding lessons cost around $40-$90 per hour.
If your child is starting horse riding lessons don't forget to:
Ensure the riding school has public liability insurance
Check the instructor's qualifications
Choose a riding school with less than 6 beginners per class
Horse riding is a year round activity. All you need to do is search for your local riding school using the ActiveActivities Directory and give them a call.
Stars and Events not to be missed!
There are a number of national equestrian events throughout Australia, the main one being the Equestrian Grand Final held every November in Sydney. Another famous event is the Melbourne Cup that is held on the Flemington Racecourse for an entire week from the first Tuesday of November in Melbourne. It celebrated its 150th anniversary in 2010.
The most famous Australian equestrian is Olympic silver medallist Megan Jones.
Articles related to your search: