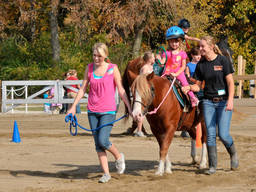 We sometimes see our toddlers imitate the things they see. Have you ever seen your kids acting like a cowboy or cowgirl like Woody from Toy Story? If so, they might enjoy the feeling of riding a horse for real! Equestrian for kids, or horse riding for kids, is the skill of riding, driving, and steeplechasing while on a horse. This sport is one of the most popular recreational activities for kids in Australia. Equestrian is also a fun outdoor family activity!
Category: Sports
Approximate age to start equestrian: 4 years old
Approximate price: Private lessons - $20 to $73/lesson, Group lessons - $5- to $56/lesson
Gear/equipment needed and approximate price range: Boots ($200), Helmet ($13 to $50), Crop ($8), Bat ($12), Spur ($25)
This activity comprises of: Dressage, eventing, show jumping
Best period of the year: Year round
School holiday programs available: YES
A video of Equestrian for kids
These young equestrians will impress your kids!
Information on equestrian for kids
Is equestrian right for your kids?
Considered one of Australia's favourite leisure activities, equestrian is an exciting sport that will not only enhance your childs physical vigour, but also their emotional and mental maturity. Australia's vast countryside makes horseback riding an ideal hobby or sport. If your child wants to learn equestrian for kids, don't worry about buying a horse or pony right away. While they are beginners, you can rent a horse from a horse stable or recreational venue.
Children four years and up are allowed to attend riding lessons for kids. If they are starting to learn as toddlers, it is ideal to start with pony riding first because it is important that the size of the horse matches the rider. If your child wants regular kids activity, you can enrol them in a riding school for kids. When choosing a riding school, there are many options. Make sure you choose a riding school with current public liability insurance provided by a recognised organisation. Make sure the school is accredited as an Australian Horse Riding Centres. These schools offer private or group riding lessons for kids, and provide proper equestrian clothes, equestrian footwear, and equestrian gear.
If your family wants to try horse riding as a one-off kids activity, find one of the many outdoor adventures centres with horse stables that offer short-term accredited programmes. Here, your kids can learn the basisc, including the proper way to mount a horse using the saddles.
Get your kids to try equestrian!
When your kids reach age six, they will be allowed to ride a horse on their own (provided they have received proper lessons). If your kids choose to pursue equestrian activities as a sport, there are three events they can compete in:
Dressage: a horse is trained to carry rider with finesse.
Eventing: a show of skill and endurance, including cross-country jumping, stadium jumping, and dressage.
Show jumping: involves a course of jumps, such as vertical jumps and spread jumps.
According to studies, equestrian and horse riding can be therapeutic , which can be beneficial for kids with disabilities and learning difficulties. Horse riding comes with many benefits. It can built your children's:
Confidence
Sense of responsibility
Concern for animals
Coordination
Balance
Core strength
Sense of freedom
To find your nearest equestrian venue or riding school, you can visit our ActiveActivities directory.
Interacting with animals and experiencing a thrilling activity are two of the things that children love. You can take them to a horse show, but why not go the extra mile and get them horse riding?
Articles related to your search: