Cycling for kids in Sydney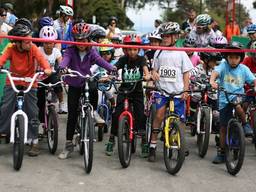 Australia was one of the countries which used bicycles as part of its reconnaissance and transportation back in World War I. Today, cycling or biking is a recreational activity or sport that is enjoyed by kids and adults. The mild climate and numerous parks in Sydney make it a perfect place for a growing number of cycling groups in New South Wales!
Category: Sports
Approximate age to start cycling:3
Approximate price:$6/lesson
Gear/equipment needed and approximate price range: Bike ($50-$750), Bike Shorts of Pants ($20-$110), Helmet ($13-$140), Jersey Shirt ($19-112), Mitts or Gloves ($10), Knee Pads ($20-$85)
This activity comprises of:Biking or cycling
Best period of the year:Year-Round
School holiday programs available: YES
A video of Cycling for kids in Sydney
Father and son cycling adventure
Information on Cycling for kids in Sydney
Why is Sydney a great place for your kids to go cycling?
The bustling city of Sydney is home to one of the world's greatest bicycle infrastructure for recreational riding. Apart from the world-famous Sydney Olympic Park, the government has been making a huge investment on Sydney bike routes, such as bike paths in parks and other cycleways. Public roads, which are dominated by motor vehicles, are also braved by cycling commuters who participate in the government's effort to influence the growth of completed bicycle trips - from point A to point B and back. Sydney most likely has the most impressive growth of cycle groups in Australia because of the weather and the many bike-friendly zones.
Suffice it to say, cycling in Sydney is a way of life. Whether it's for play or for sport, cycling events in Sydney happen year-round. Look at the toddlers or children next door who spend all afternoon on neighbourhood bike races or the well-organised Sydney cycling competitions for kids and adults. There is so much to cycling in Sydney that you and your kids can enjoy!
Cycling in Sydney is truly one of the best options for kids activities. If you have an uncertainty, consider going on a bike tour of Sydney with your family. If you don't have a bike or enough bikes, Sydney bike hire is an option for most families or groups who want to spend quality time without spending on high costs. Surely, you and your kids will be planning the next biking adventure soon after!
Here is a list of kid-friendly bike tracks in Sydney:
Balmoral Beach
Bicentennial Park, Glebe
Bicentennial Park, Sydney Olympic Park
Blenheim Park, Ryde
Brightmore Reserve, Cremorne
Campbelltown Bicycle Education and Road Safety Centre
Holroyd Gardens, Merrylands
Narrabeen Lake – Sydney
Winnererremy Bay Playground, Mona Vale
Willoughby Park, Willoughby
Get your kids to start cycling in Sydney!
Is there a reason for you to be uncertain about activities for kids, such as cycling in Sydney? Like all the other good parents out there, who are constantly concerned about their kids' health and safety, you must always consult your kids' paediatrician. An illness, like asthma, may be a factor when not to consider cycling in Sydney, but there are times when a paediatrician would say, "Great idea!" Being proactive can be a good thing, but there's a fine line between being proactive and babying your kids, so it's best if you get the paediatrician's opinion.
How much will cycling in Sydney going to cost you? For one, you don't need to buy a bicycle for your kids because Sydney bike hire is common in various parks, and the cost is very minimal. However, owning a bike can be a really good investment. Do you need to enrol them in private cycling classes and lessons? Like they always say, parents are the best teachers, so find time in your schedule for a morning or an afternoon cycling with kids.
If you want your kids to start cycling in Sydney, here is what you need to look for in bike stores:
Age-specific Bicycles
Bike Shorts or Pants
Helmets
Jersey Shirts
Mitts or Gloves
Knee Pads
The other things you need which you'll find at home are:
First Aid Kit
Rubber Shoes
Water Bottle
Enjoy the perfect weather of Sydney by going on a bike tour with your family! Meet and greet with other parents and children, and start your very own cycling group! Learn more about cycling in Sydney today by visiting ActiveActivities directory.
Articles related to your search: