Cycling Coaches & Instructors for kids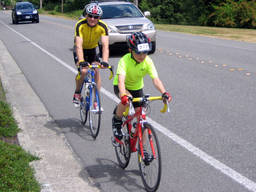 A young boy and his bicycle coach go for a ride in a local highway
Getting your children to train under cycling coaches and instructors will vastly improve their cycling technique and will allow them to race competitively. The first bicycle race in the country was held in the Melbourne Cricket Ground back in 1868, and since then, many cycling clubs have begun training cycling coaches and instructors throughout the country. Improve your kids' physique and cycling techniques by hiring cycling coaches and instructors for kids today!
Category: Sports
Approximate age to start hiring a cycling coach: 6
Approximate price: $20 for kids U13, $60 for kids U18
Gear/equipment needed and approximate price range: Junior bicycle ($55-$200), helmet ($30-$50), knee pads ($20-$40), elbow pads ($20-$40)
This activity comprises of: cycling, racing
Best period of the year: Summer
School holiday programs available: YES
A video of Cycling Coaches & Instructors for kids
A video of a toddler's first cycling lesson
Information on Cycling Coaches and Instructors for Kids
Should you Hire cycling coaches and instructors for kids?
Cycling for kids is one of the popular kids activities that improves health and fitness. It's also a practical and eco-friendly mode of traveling. Since cycling is a standard activity in the country, Australia is home to many kid-friendly bike trails that your children can take advantage of like the bike trails in Sydney Royal National Park and the bike trails in the Centennial Parklands.
Hiring a coach will provide your kids with more intensive training for cycling. Whether your child is an experienced cyclist or a beginner, he or she can benefit from cycling lessons for kids. Some benefits of hiring a cycling coach include:
Having a personalized training plan
Cycling coaches and instructors for kids offer a personal type of service that will focus on your kids' individual development. Your kids' bike coach can help your children focus on their weaknesses and help them become better cyclists.
Some children prefer cycling just for leisure and fitness, while other children take cycling lessons so that they can compete in races. A coach can also tailor-fit his or her training plan according to your child's goals.
Having a cheerleader to support you
Hiring a bike coach will positively reinforce your child's performance. Having an adult constantly tell him or her to push harder will keep your child from being lazy on the track. The bike coach can also keep your kid in check in case he or she is attempting to push himself or herself too hard.
Receive instruction from a qualified coach
Cycling activities for kids is fun, but if you're only allowing your kids to cycle on their own, they might not be cycling the right way. A qualified coach will give your kids necessary drills and exercises to help boost their development. Coaches can also provide helpful tips for kids like how to apply optimal pressure on brakes, how to travel through difficult terrain, and how to do the proper positions for cycling.
There are many cycling coaches available for hire all over Australia. Make sure you check the instructor's qualifications and testimonials before you allow him or her to assist your kids in cycling. Cycling needs constant and attentive supervision from adults, so be sure to choose your kids' cycling coach well. Check the ActiveActivities directory for more information on cycling clubs and coaches.
Cycling coaches and instructors for kids can help your children do well in cycling competitions. To be eligible to join cycling competitions, your children have to be a member of a cycling club that's affiliated with Cycling Australia. Cycling Australia hosts the National Junior Track Series, the most prestigious competition in junior cycling. The competition lasts for five rounds and is open for U15 and U17 cyclists. They also host coaching sessions and workshops throughout the country.
Memberships for cycling clubs can also help you find the perfect cycling coach for kids. Cycling Australia recognizes three membership categories, Silver for non-racing members, Gold for the traditional racing licence, and Platinum for club officials. Kids from age 6 can begin joining cycling clubs, while toddlers will have to settle with private coaching lessons at home. Club membership for kids U13 is around $20, while membership for older children from 13-18 can cost at around $70.
Hire a cycling coach for your kids today!
Articles related to your search: