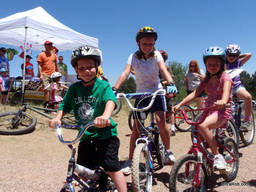 Cycling clubs is a great way for your kid to be fit and healthy while having fun with other kids.
Cycling is a popular form of recreation, commuting, and sport in Australia. For the past 10 years, more bicycles than cars have been purchased by Australians. The country has an extensive network of cycle roads and bike tours are also popular in Australia.
Cycling offers a fun way to become fit and active, and to appreciate your surroundings. It's environment-friendly, too! Studies have shown that children who ride bikes to and from school are healthier than those who walk or are driven. Cycling is more fun when experienced with others. Let your kids join cycling clubs to enjoy the experience with old and new friends!
A video of Cycling Clubs for Kids
There are important guidelines you should consider when you are choosing the right bicycle for your kids, including their height, age, and level of ability.
Information on Cycling Clubs For Kids
Are cycling clubs for your kids?
Letting your children join kids clubs is an ideal way to make them be productive even when not in school. Kids clubs is also a tool for them to learn new skills and other sensible kids activities while having fun with their friends in a friendly and safe environment. Cycling clubs for kids are no exception to this. Cycling clubs aim to make cycling an important part of youth's lifestyles ? as a recreation, transportation, or sport. These clubs also help kids discover the freedom that cycling brings, as well as its benefits to our health and the environment.
Outdoor exercise
Cycling is a way to incorporate fun and exercise into the kids' routine. It is a good form of cardiovascular exercise and it also provides children an opportunity to spend time outdoors with their friends and family. Cardiac cycling helps increase heart rate and regulates body weight.
Good for the wellbeing of the people and the nature
If more people choose to ride bikes than cars as mode of transport, there will be less pollution. Aside from providing a good exercise to kids, they will also be able to breathe unpolluted air. Cycling contributes to a cleaner environment, and in turn gives people health benefits.
Affordable travel
Cycling is also a cheaper means of transport. Fuel prices are constantly rising and it would be more practical to encourage your kids to ride their bikes to and from school.
Independence and confidence
Cycling clubs helps kids develop road sense and the ability to navigate by teaching them the different road signs and cycling rules. Cycling also gives kids a sense of freedom. All of these benefits also helps boost their confidence.
Cycling Clubs fulfil their purpose by providing fun cycling activities for kids as well as for the whole family. They offer lessons for beginners, and fun events and competitions for the members. Cycling clubs in Australia cover all forms of cycling including leisure riding, road racing, mountain biking, cycle races, and cycling for disabled people.
Children as young as babies can enjoy cycling; but toddlers starting age four are the only ones who can already pedal on their own. Kids under age four can be non-pedalling passengers. Introduce them to cycling by taking them along in a child trailer or seat. Also familiarise them with the safety precautions at an early age, like wearing a helmet and other protective gears like knee and elbow pads. When they get older (around four years old), you can get them their own bikes, or rent one at bicycle hires. The ideal bikes for beginners are those with training wheels.
Get your kids to join cycling clubs!
When they reach eight years old, they can already start joining cycling clubs for kids that offers Full Cycle programs for kids. The Full Cycle program will give them an introduction to basic bicycle handling skills as well as important safety issues involved with cycling. When they are ready and confident enough to ride bikes on their own, cycling clubs will introduce them to different forms of cycling.
Mountain biking
Mountain biking is a sport also called off-road cycling. It uses a specially adapted mountain bikes that can travel on rough terrains.
Road cycling
Road cycling is the most common form of cycling including recreational, road racing, and utility cycling. Road bikes include BMX, touring, utility, racing, and regular bicycles.
To find cycling clubs for your kids, local bicycle shops and community organisations are some of the best places to ask. The internet is also a very helpful tool. Our ActiveActivities Directory lists the available cycling clubs for kids around Australia. Find the ones nearest you.
Cycling clubs give opportunities to kids to enjoy cycling in a safe and child-focused environment. Cycling is one of the important activities that kids should learn early. Get them to join cycling clubs!
Articles related to your search: