Softball for kids in New South Wales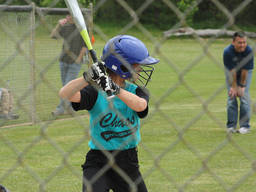 Softball is originally an indoor game which originated in Chicago, USA. As the sport cascaded, there are countries like Australia which truly excel in the game. Softball offers excellent programs for boys and girls to learn how to be excellent softball players like their favourite athletes. Get them to start training under professionals in New South Wales!
Category: Sports
Approximate age to start (name of activity): 4
Approximate price: Average price of $200
Gear/equipment needed and approximate price range: bats ($120), gloves ($30), helmets ($60), softball ($8), Softball club ($50/day)
This activity comprises of: coaching, batting, pitching, retrieving, softball camp for kids, training
Best period of the year: Vacations or school holidays
Most appropriate region: Australia.
School holiday programs available: YES
A video of Softball for kids in New South Wales
Watch this girl hit the softball and make it to first base
Information on Softball for kids in New South Wales
Why is New South Wales a great place for your kids to try softball?
The history of softball in New South Wales goes a long way back in 1939. Since the sport was rampantly developing among the community members, the state established its own softball association. New South Wales Softball Association is still the governing body of the state, and it organises the annual state championships and state league. New South Wales Softball Association also regularly attends the ASF National Championships.
The effective governance of New South Wales Softball Association is one of the primary reasons how it successfully became one of the foundation federation members of the Australia Women's Softball Council. By giving equal opportunity to develop the skills of various individuals who want to play the sport, New South Wales had become one of the most competitive softball hubs in the Commonwealth. In 1984, there were 1,356 registered teams in the state.
Among the various activities for kids in Australia, a popular team sport for children is softball for kids. Also known as baseball for kids, softball is one of the alternatives to modern games for children. Just like other team sports, it allows kids to enjoy and to move around as they make friends and learn how to play softball. Instead of spending your money buying children's toys, enrol them to softball clubs. Softball will allow them to progress from Blastball to 3-Pitch before reaching Junior League.
Softball for kids in New South Wales is an amazing opportunity for them to be awarded scholarships. If you don't know it yet, some of the scholars who are worth mentioning include Belinda Ashworth, Kylie Herbert, Kelly Lindsay, and Brooke Wilkins. They are some of the treasured gems of the state. Softball for kids in New South Wales is surely going to be fun and exciting! Your kids have the opportunity to score a trophy for New South Wales during the Mack Gilley Shield.
There are various softball leagues for children where your kids will undertake various drills as they learn the rules of the game. Among many kids activities and sports for kids, softball is a great opportunity for your kids to learn self-discipline and to value healthy living at a young age. There is probably no greater joy for parents when they see their children playing around and having fun. Apart from it, for children who play sports, they turn out to be naturally competitive in school and, basically, in everything else. Check out ActiveActivities Directory for a list of softball clubs and softball school holiday programs.
Get your kids to start playing softball in New South Wales!
Do you want your kids to be active in sports? Softball for kids in New South Wales is a great way to get them started! Similar to basketball for kids, softball is a team sport which will allow your children to develop their motor skills and eye coordination. They will also develop their social skills as they gain friends and learn how to be good team players. Toddlers, as young as 3 years old, are ecstatic to learn the basics of softball. Buy kids' bats and gloves, and see them start pitching!
Softball for kids in New South Wales falls under age-specific categories. These are games which are made up of single-gender and mixed-gender for children ages 4 to 12 years. These are the different versions of softball for kids in New South Wales:
Blastball
Diamond Ball
Tee Ball
Rookie Ball
Mod Ball
Fast Track
3-Pitch
Check out the ActiveActivities directory to learn more about softball for kids in New South Wales. It is a great source to gather information about softball clubs across the state. There are also Softball Batter Up programs in New South Wales which are intended for newbies. It's a program that is certified by Softball Australia. This is an especially good program for toddlers.
Give your kids the opportunity to enjoy a great game of sports! Softball for kids in New South Wales will surely be an excellent way for your kids to be like Wulf, Richardson, or Parnaby. In a few years, you just might get your kids playing in the World Championship.