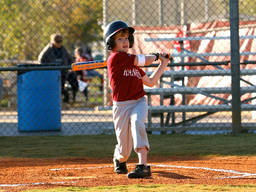 A young boy bats off the ball during a field match
Softball for kids is the same as baseball for kids, including the rules of the game, except that toddlers and children don't have to fear getting hit by the ball. Softball for kids is modified according to children's age so that they can progress to another level as they develop their physical strengths on a game of team sports.
Category: Sports
Approximate age to start (name of activity): 3
Approximate price: Average price of $200
Gear/equipment needed and approximate price range: bats ($120), gloves ($30), helmets ($60), softball ($8), Softball club ($50/day)
This activity comprises of: coaching, batting, pitching, retrieving, softball rules, softball camp for kids, training
Best period of the year: School holidays
Most appropriate region: Australia.
School holiday programs available: YES
A video of Softball for kids
A 3 year old girl bats a ball off a tee during a Diamond Ball practice
Information on Softball for kids
Why should I consider enrolling my child to softball for kids?
Softball for kids is a fun and exciting game of "ball-and-bat" just like baseball for kids! Australia is one of the many countries which have been seeing a growth on sports activities for kids that are appropriate according to children's age. ActiveActivities Directory has been growing its list of kids activities on sports for kids.
Softball for kids in Australia has a game called the Diamond Ball. This kind of softball is a non-competitive game of team of sports that allows toddlers and children to understand the rubrics of youth softball. The Diamond Ball, a softball for kids ages 3 to 7 years, is one of the tailor-made activities for kids that allows beginners and those with 1 or 2 years of experience to get more comfortable with children's softball before playing youth softball.
Sports are always the best way to help your kids understand discipline, healthy living, and sportsmanship. Softball for kids is one of the best ways to develop kids' attitudes and behaviours because of its nature as a social activity that involves working with a team. Softball for kids is also a good way to develop their strength and agility.
Get your children to play softball for kids!
Softball for kids is an amazing game of "bat-and-ball" that allows kids to develop their strengths in this game equivalent of baseball for kids. Each level of softball for kids is accorded to children's age to make sure that your kids can have fun on the field while developing their softball skills! Softball for kids is one of the many activities for kids that is guided by professional coaches who have experienced working with professional softball or baseball players.
Here is a list softball supplies which you might need to get the little ones started on playing softball for kids:
If you enrol your kids in softball clubs, these items will be provided. However, your kids will surely play softball when they get the time even if there is no field! It's best to make sure that you spend time playing with the little ones so they can advance to the higher level of softball for kids.
You can do drills and pitching together so they can improve their softball skills. Who knows? In a few months or years, your kids might be playing softball for kids with the intention of joining softball leagues someday!
Support activities for kids that allow children to be active and to dream of their future! Check out ActiveActivities directory to find softball clubs for kids in your area.