School holiday soccer camps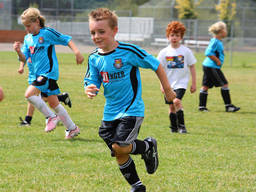 Children in a school holiday soccer camp
Soccer (or European football) is dubbed as the world?s most popular sport, and is therefore one of the most popular holiday activities for kids. The earliest traces of soccer fields were in China at around 2BC, though more evidence suggests that early Romans and Greeks were the ones who actually played soccer.

The rules for modern day soccer were established in 1863 in England and they have changed very little since then. Want to help your kids become great football players? Enrol them in soccer clubs this summer!
Category: Sports, holidays
Approximate age to start (name of activity): 2
Approximate price: $65/session
Gear/equipment needed and approximate price range: Soccer boots ($50-$300), Soccer socks ($20), Shin guards ($25-$70), Soccer ball ($30-$50)
This activity comprises of: soccer training, soccer workshops, soccer tournaments
Best period of the year: December to February
Most appropriate region: Sydney
School holiday programs available: YES
A video of School holiday soccer camps
School holiday soccer camp for kids at AC Milan, a soccer club based in Italy with camps in Sydney
Information on School Holiday Soccer Camps for kids
Are School Holiday Soccer Camps For Your Kid(s)?
Looking for school holidays activities for your kids? School holidays in Australia can add up to about 55-58 days off school in a year in total. That's a lot of time they can use learning the world's most popular sport, soccer!
Soccer holiday camps provide many kids activities that include the following benefits:
Help Kids Prepare for Soccer Tournaments
Kids programs in soccer clinics offer more intensive training as opposed to playing soccer at home. If your child is the competitive type, he or she would surely want to develop his or her skills during her free time!
Train Kids Under Established Coaches
Many established soccer clubs like the AC Milan Soccer School offer training under coaches with many credentials and provide children with opportunities to one day work as professional soccer players.
Improve Fitness and Health
Joining school holiday soccer camp for kids is a great way to keep your children busy while improving fitness and health at the same time.
Some soccer clubs offer camps beginner programs for toddlers as young as 2 years old. Boys and girls play different leagues. Soccer is better for children who prefer playing team sports and for children who are willing to get dirty in the pitch.
Get Your Kids to Join School Holiday Soccer Camps For Kids!
School holidays in Sydney provide many opportunities for your children to join soccer camps. Football Development Australia, Soccer Kickstart both provide school holiday soccer camps. You can also find a soccer academy for your kids, like the Sydney Soccer Football Academy. Check the ActiveActivities Directory for a list of School Holiday Soccer Camps for Kids. To get your kids to join Sydney soccer camps, you have to enrol them before December. Since soccer is an outdoor sport, it's better for the summer holidays. But some soccer clubs also offer indoor football (futsal) camps to let your kids play during other seasons. Some school holiday soccer camps in Sydney are held in July for this reason.
Soccer activities for kids will require the following equipment:
T-shirt and shorts
Soccer boots (runners for junior levels)
Long soccer socks
Shin Guards
Soccer ball for practice.
Soccer means staying out in the sun and running for hour so be sure to bring lots of sunscreen and lots of water.
Help your kids become the next football star!
Articles related to your search: